Blow Snow, Not Your Savings
Unless you live in a region that's regularly slammed with substantial snowfall, there's no need to spend a fortune for a snow blower that will see only occasional use. A cheap snow blower (or snow thrower, as less powerful single-stage models are known) can reliably clear small to medium-size driveways, walkways, decks, and patios of about half a foot of snow, or more if you're willing to make multiple passes. The cheapest sub-$200 snow blowers are usually corded electric models, but spending a bit more can buy the cordless convenience of a battery-powered blower or the added power of an electric-start gas snow blower. We researched expert and owner reviews to round up the best snow blowers under $500, and also included a few pricier picks for shoppers tackling serious snowfalls that require more heavy-duty machinery.
Prices and availability are subject to change.
See full Buying Guide
Our Top Pick
Snow Joe Ultra SJ625E Review
Snow Joe Ultra SJ625E Review
Pros:
15-amp motor, on the powerful side for an electric blower.
Can manage up to about 10 inches of powdery snow with ease, users say in reviews.
Wide 21-inch path.
Steel auger (cheaper models often use plastic).
Relatively lightweight (around 36 pounds), for easy handling.
LED light for nighttime use.
Earns high praise for quick and easy assembly — less than 5 minutes by most accounts.
Cons:
Can't handle wetter snow, which leads to clogging and reduced throwing distance, many users say.
Requires an outdoor extension cord that can be pricey.
Takeaway: The corded electric Snow Joe Ultra SJ625E does a fine job even on heftier accumulations of powdery snow, owners say. They love the lightweight frame and no-hassle upkeep of this Snow Joe electric blower. Many say it's good for clearing a deck, a walkway, or small driveway. Some reviewers warn that this electric single-stage snow thrower is underpowered for wet snow, however, and the rubber blades attached to the steel auger aren't much of a match for compacted snow or ice — but they are more damage resistant than plastic blades and stand up better to gravel and other underlying yard debris. Reviewers also grouse that the cord gets in the way, but this is a complaint levied against all corded electric models. Users say this machine beats a snow shovel any day and score the Snow Joe brand tops among electric blowers for reliability.
Greenworks 2600502 Review
Available from Amazon.
Price: $192 at time of publishing
Pros:
Longer warranty (4 years) than most snow blowers, gas or electric.
Very lightweight and easy to maneuver, at only 32 pounds, and compact for easy storage, users say.
20-inch path, slightly wider than other cheap electric blowers, so fewer passes may be necessary.
Less maintenance than a gas blower.
Relatively quiet; owners compare the noise to a loud vacuum cleaner.
Cons:
Too many flimsy plastic parts to stand up to long-term use, many users say.
Some reports of units that were dead upon first use.
Models that come with an outdoor extension cord are more expensive.
Recommended 50-foot cord length may not be sufficient for long driveways and sidewalks.
Takeaway: Budget-conscious buyers who don't regularly battle blizzards should be pleased with the single-stage Greenworks 2600502. Users who've gotten used to managing the cord praise the ability of this lightweight electric blower to clear snow up to about 8 inches. Even with some complaints regarding durability and construction, the majority consensus is that, among sub-$200 snow blowers, this 13-amp snow thrower is hard to beat. It's also harder to find these days other than on Amazon, as it seems the brand is leaving its corded blowers behind in favor of battery-powered models.
Wen 5662 Snow Blaster Review
Pros:
Very inexpensive for an 18-inch electric snow thrower.
13.5-amp motor, a decent amount of power for the price.
Handles up to 6 inches of fresh snow with relative ease, according to user feedback.
Cons:
Working around the cord can be awkward, some owners complain; cord not included.
Plastic blades struggle to clear rough surfaces and heavy snow, users say.
Takeaway: If you live in an area where you see only a dusting of snow a few times a year, this inexpensive single-stage corded electric snow thrower from Wen is a good, base-level option. It's perfect for decks, patios, and walkways, users say, though anything more than a few inches of dry snow will be a challenge to clear. Professional tests don't usually consider cheap snow blowers like this one, but user reviews of the Wen 5662 Snow Blaster are plentiful; they're also quite positive for the most part, barring a handful of buyers who complain of receiving defective units and a few whose expectations for the clearing power of this budget blower may have been set a bit too high.
Pros:
No fussing with a power cord.
LED headlight.
Very lightweight, at only 32 pounds, making it easy to lift and maneuver.
Good marks for surface cleaning in expert tests.
8-inch snow intake makes it well-suited for occasional use and light accumulations.
Less noisy than gas models.
Energy Star certified.
Cons:
Not enough power to deal with heavy snow; don't expect to easily clear more than 3 to 4 inches at a time, several owners warn.
Many say this single-stage blower clogs easily and has a limited throwing distance.
With up to 50 minutes of run time per charge, the battery might not last long enough for larger jobs.
Some complaints of long recharge times.
Takeaway: Although the battery-powered Snow Joe iON 18SB can't compete with the very best cordless snow blowers on power, and it clears only an 18-inch path, many owners say this Snow Joe snow thrower has the chops to chew through lighter snowfalls on smaller driveways and sidewalks. They also say it's hard to beat the quiet engine and cord-free, lightweight maneuverability compared with bulkier gas blowers.
There's a newer model, the Snow Joe 24V-X2-SB18, that swaps out the single battery in favor of two for a combined 48 volts of power and a bit more oomph when it comes to plowing capacity. Still, while early reviews suggest users are generally pleased with this pricier version's performance, its shorter run time — just 30 minutes at best, and closer to 15 or 20 minutes by several accounts — has us favoring our tried-and-true pick. For those who want the option of switching between battery power and corded power for longer or tougher jobs, there's also a hybrid version, the Snow Joe iON 18SB-HYB.
Ego SNT2102 Review
Available from Amazon.
Price: $599 at time of publishing
Pros:
More powerful than cheaper cordless blowers, with two 56-volt batteries.
High-efficiency brushless electric motor.

Can handle up to a foot of powdery snow and smaller accumulations of wet snow, users say.
Top marks from experts for surface cleaning and handling.
35-foot throwing distance, so snow won't pile up where users don't want it.
No fussing with extension cords.
Cons:
Heavy for an electric blower, at 64 pounds.
Hard to manage on rough surfaces or in heavier accumulations, some experts and owners claim.
Still slower and less effective than gas blowers, experts say.
Takeaway: The single-stage Ego SNT2102 is for consumers who long for a low-maintenance cordless snow blower with the power of a gas model. Although it comes with a comparatively hefty price tag, this is one of the only electric models we researched, corded or cordless, that users say is capable of slicing through up to a foot of powder without getting bogged down. That performance, which compares favorably with an electric-start gas snow blower, combined with the convenience of a cordless electric model might be well worth the added expense.
Toro Power Clear 721 E Review
Pros:
Generous 12.5-inch intake height and enough power to capably manage heavier snowfalls, including icy deposits.
Top-grade performance in expert tests for handling, plow pile removal, and surface cleaning.
212cc engine, among the most powerful in this class.
Convenience features including self-propulsion and push-button start.
Fold-down handle and chute for easier storage.
4-cycle engine with separate tanks for fuel and oil; no premixing required.
2-year guaranteed-to-start (in one or two pulls) warranty along with Toro's full 2-year warranty.
Cons:
Some say the manual-adjust chute can be a hassle to manage.
In tests, Toro snow blowers are relatively noisy compared with other brands.
Single-stage snow blower; not designed for use on gravel or rough surfaces.
Takeaway: Experts at Wirecutter have called this Toro electric-start gas snow blower "the gold standard" in its class, and users have been equally keen in their praise of its capable performance. With a 21-inch clearing width and plenty of power to clean snow down to the pavement, the Toro Power Clear 721 E is a solid choice for homeowners looking to make short work of medium-size driveways, sidewalks, and other flat surfaces. Users say it can easily handle 6 inches or more of the wet and heavy stuff, and even a foot of snowfall is no match for this machine. Although we saw a handful of complaints that the chute can be difficult to attach and doesn't always remain in place, most owners are more than satisfied with this simple-to-use, easy-to-maneuver, and quick-to-start Toro snow thrower.
If you're willing to pay about $150 more, you can get the latest and greatest model, the 252cc Toro Power Clear 821 QZE. But if you feel affordability is worth a little extra effort and elbow grease, our value pick should fill the bill. There's a reason it's a bestseller.
Toro Power Clear 518 ZE Review
Pros:
Very light for a gas blower, at 58 pounds.
Locking deflector to direct snow high or low and a discharge chute that rotates 210 degrees to throw snow where users want it.
Backup electric starter and variable speeds.
High marks in expert tests for throwing distance, surface cleaning, and handling.
Collapses for easy storage.
4-cycle engine with separate tanks for fuel and oil; no premixing required.
2-year, guaranteed-to-start warranty in addition to a 2-year full-coverage warranty.
Cons:
Struggles somewhat with wet snow, according to reviews.
Rubber paddles don't make much of a dent in tightly compressed snow, some users say.
Reports of paddles breaking and screws loosening or falling out.
Some users complain that the oil tank is awkwardly positioned, making refills difficult, and the gas tank lid can be hard to remove.
Takeaway: This 99cc single-stage Toro model is light, compact, and cheap for an electric-start gas snow blower. While the Toro Power Clear 518 ZE doesn't have the oomph of more expensive blowers, and its 18-inch clearing path is a bit narrow, users say it's plenty adept with snowfalls of about a foot. It's also got many of the same features that make our top choice, the Toro Power Clear 721 E, so popular. For consumers who don't want, or need, to wrestle with a lot of machine, the modest weight and easy operation of the Power Clear 518 ZE make it simple to use from start to finish. And the comparatively low price tag on this entry-level gas blower makes it particularly attractive for consumers on tight budgets.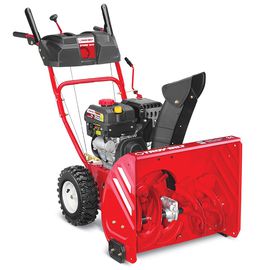 Troy-Bilt Storm 2410 Review
Pros:
Tackles wet, icy snow and accumulations up to a foot with ease, users say.
Convenience features including self-propelled drive, push-button electric start, and remote chute control.
6 forward speeds and 2 reverse speeds.

24-inch clearing width.
Very good marks from experts for speed, plow-pile removal, surface cleaning, and handling.
Cons:
Heavy, at 195 pounds.
A 2-stage gas snow blower can be overkill if snowfall is only moderate.

Remote chute control can be finicky, reviewers say.
Experts warn that a lack of freewheel steering can make it more difficult to turn.
Takeaway: Though a bit outside the Cheapism price range, this impeller-equipped Troy-Bilt two-stage gas snow blower is one of the best values on the market for buyers who want a more powerful machine for quick snow pickups of even heftier snowfalls or to clear rough surfaces like gravel or dirt. The Troy-Bilt Storm 2410 also receives kudos for relatively rugged construction, with several users saying it lasts for years with proper maintenance. About $100 more will buy one-handed steering, no-maintenance airless tires, and a bit more chute rotation with the Troy-Bilt Storm 2460, but we leave it to you to decide whether these perks are worth the extra expenditure.
Pros:
Can handle even the biggest snowfalls and be used on gravel, dirt, or hilly terrain, users say.
Extra-wide 26-inch clearing path.
Dual augers and an induction accelerator break up snow and push it into the impeller, helping make cleanup quicker.
Convenience features including heated hand grips, trigger-controlled power steering, push-button electric start, and a headlight.
Cons:
Heavy, at 267 pounds.
Shear pins that protect the gearbox break too easily, some users grouse.
High-speed accelerator may make a mess with smaller amounts of snow, experts say.
Takeaway: This Cub Cadet snow blower is pricey, no doubt, but a solid value for a three-stage blower that's powerful and fast enough for large, frequent snowfalls. This electric-start gas snow blower is also in another league compared with many two-stage and single-stage snow blowers when it comes to features, with a headlight, heated hand grips and power steering to make it easy enough to maneuver with one hand despite being relatively heavy. If you need serious snow-clearing power and appreciate convenience, too, the Cub Cadet is a relatively affordable option well worth considering.