What We Considered
More than one-third of American households own at least one cat, according to the latest 2017-2018 APPA National Pet Owner's Survey, and the average cat-owning household accommodates two furry felines. That's a lot of food over kitty's lifetime -- up to 17 years and counting for some indoor cats. And while pampering a pet may provide great pleasure, there's no need to serve up high-priced delicacies. Cheapism researched the type of diets cat experts recommend and what pet owners say about the available offerings in order to identify the best cheap cat food. Our top picks for best wet cat food and best dry cat food promise frugal pet owners and their notoriously finicky friends food that is healthy, satisfying, and priced right.
The budget end of the cat food universe is dominated by Purina, which is credited with its namesake products as well as brands like Fancy Feast and Friskies. Other popular supermarket labels include Whiskas, 9-Lives, and Special Kitty. The middle tier holds more specialized brands such as Halo, Weruva, Wellness, and Blue Buffalo, some of which sell at what passes for a budget price. At the top end are what may be termed farm-to-bowl cat foods made of human-grade protein sources such as free-range chicken; these formulas make a point of containing no grain or GMO products. Freeze-dried foods like Stella & Chewy's Duck Duck Goose Dinner are high in raw protein from primary organic sources but cost about $2 an ounce. Some brands, like Royal Canin, have lines that exclusively cater to special health-based dietary needs, such as digestive sensitivity, weight control, diabetes, renal and liver health, allergies, etc. The product lineup for many mainstream brands also includes health-related blends.
Nowadays most cat food, cheap or high-priced, bears the label "complete and balanced" or "100 percent nutritious." These products meet standards set by AAFCO (Association of American Feed Control Officials) for nutritional adequacy. Federal and state regulations require that pet food labels specify, among other things, a list of ingredients in order of relative weight, a statement of nutritional adequacy for a given life stage, and a guaranteed analysis that indicates minimum percentages of protein and fat and maximum percentages of fiber and moisture. There are also strict guidelines that control how foods are designated based on the percentages of ingredients included -- from, for example, "chicken cat food" (95% of product not counting water must be chicken) to "chicken dinner/entrée/formula" (25% of product not counting water must be chicken) to the always dubious "cat food with chicken" (only 3% of product need include the stated ingredient).
The best cheap cat foods meet both industry and veterinarians' nutritional standards, although as a rule they include more filler and carbohydrates and less high-quality protein than pricier varieties. We ignored the popular Purina Cat Chow Complete, for example, because it met few of the requirements vets have for cat food; its primary ingredient is a by-product meal and the next few listed on the label are carbohydrates of some kind. Ditto for Whiskas, one kibble option we specifically do not recommend.
Our Top Pick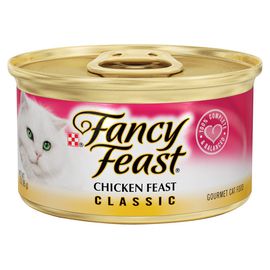 Fancy Feast Classic Review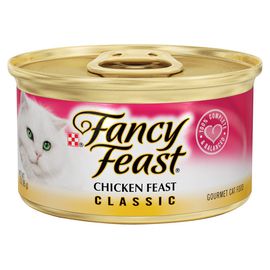 Fancy Feast Classic Review
With several flavors to choose from, Fancy Feast Classic, sometimes referred to as "kitty crack," draws in picky eaters. This low-cost canned cat food contains protein from quality sources; meat by-products are used, but they're lower down on the list of ingredients.
Finicky cats scarf it down.

Options include the classic pâté style, grilled, sliced, shredded, as well as selections for gravy lovers.

High in protein, with only a few meat by-products.

Small amount of wheat gluten in a few varieties; absent in many others.
Contains artificial colors and flavors.

Some cats present with gas or stomach issues with this food.
While many reviewers say Tiki Cat is unappealing to humans, it's undeniably attractive to most cats. The cans are on the small size for the price, but the chunky formula contains no filler -- it's calorie-dense with the right kind of nutrition.
Human-grade cat food at an affordable price.

Grain-free, low in carbohydrates and very high in moisture and protein.

Good for cats with health issues such as urinary tract infections, diabetes, and IBS.
Mostly fish flavors, which may not be the best choice for daily feeding.

The fishy smell is off-putting to some people.
Taste of the Wild Grain Free Review
Taste of the Wild Grain Free contains more protein (42 percent for the venison and salmon variety) than most cheaper dry cat foods. The sweet potatoes add moisture, fiber, and nutrients that some vets say are good for a cat's digestive health.
Suitable for all life stages.

Carbohydrates come from sweet potatoes and legumes.

Wet cat food users say it's a convenient alternative that also serves well as treats.

Contains omega-6 and omega-3 fatty acids.

Very high percentage of protein in Rocky Mountain Feline blend.
Roasted venison flavor is mostly chicken meal.

Does not appeal to all cats.

Some owners question the need for fruits in the mix.

Little variety in flavors.
Hill's Science Diet Review
Rescue cats are often fed some variety of Hill's Science Diet in shelters, and owners continue with the brand when they take those cats home. The moisture content is low, even for a dry food, so supplementing with wet food is a good idea. Science Diet addresses certain health issues, such as weight gain, urinary tract, and hairball, with special formulas that seem to work for most cats.
Said to be top choice for veterinarians to feed their own pets, according to surveys.

Protein is the first ingredient.

Owners report less throwing up and fewer hairballs.

Cats generally like the taste and seem to thrive.
First five ingredients in dry formula include wheat and corn gluten.

Dry food is very low in moisture.

Some owners say it doesn't seem to fill up their pets.
The urinary tract health version of Purina Pro Plan is particularly popular given the prevalence of this problem among cats. Reviewers at shelters and foster homes say it helps mitigate health issues and cats really go for it.
Specific formulas target life stages and health issues; some options are grain-free.

Many varieties contain gravy, which ups the moisture content.

All versions in Pro Plan line list a named protein (such as chicken, turkey, or salmon) as the first or second ingredient (after water).
Only some varieties are grain-free; others contain wheat, corn, and soy.

Contains meat by-products.
Purina Beyond Grain Free Review
For a low-price, grain-free cat food, Purina Beyond Grain Free is a solid choice. The proteins come from dried fish, chicken, or egg, and carbohydrates are generally limited to sweet potato and peas. Cranberries are added to some varieties to promote urinary-tract health.
Does not contain wheat, corn, soy, or by-product meal.

Helps make cats' fur shiny and minimizes hairballs, owners say.

Many cats prefer this to more expensive dry foods.

No artificial colors or flavors.
Fish flavors give off very fishy odor.

Limited number of flavors, and some are more expensive.
Rachael Ray's Nutrish Natural Review
Rachael Ray's Nutrish seems like the PERFECT food, with actual chunks of protein in gravy and no other ingredients but for vegetable oil, vitamins, and minerals. Many cats, however, aren't sold.
High in protein and no carbs.

No fillers, by-products, or artificial colors or flavors.

Plenty of vitamins and minerals.
Many cats spurn the food, reviewers report.

Chunks are too large for some cats.

Flavors are a bit heavy on fish, which some vets say should be served sparingly.
Whiskas Dry Cat Food Review
Whiskas might be a good deal if the cat likes it and the budget is tight. Nutritionally, however, there's not much going for it. There is way more grain than most vets recommend, and reports indicate it's not suited for cats with skin problems.
Acceptable food for the very low price.

Some cats really like it.

Higher in moisture content than many dry foods.
Most of the top five ingredients are grain of some kind.

Protein primarily comes from by-product meal.

Low amount of omega-6 fatty acids.
Other Products We Reviewed