For budget-minded shoppers who can live without some of the luxuries that come with higher price tags — like lots of fabric-specific settings, steam cycles, a fancy display, and the very latest technology — we've rounded up reliable dryers that are large enough to serve a medium-size household and cost around $600 or less. Consumers willing to pay a bit more for a few bells and whistles, as well as large families looking for a mega-capacity model, will also find some relatively affordable options on our list. We've even got one compact dryer for apartments and RVs. Many of the dryers pair with matching washers, some of which are reviewed in our roundup of the best cheap washing machines. Electric dryers are our primary focus, as they're the most commonly used, but several of our picks come in gas-powered versions.
Editors' Note: Listed prices were accurate at the time of writing and represent the best deals at major retailers. But sales on these appliances are frequent and prices can fluctuate from one week to the next, sometimes by more than $100. It often pays to track prices and check multiple retailers before making a purchase.
See full Buying Guide
Our Top Pick
Pros:
Very low price for a full-size clothes dryer.
Covers the basics with 11 drying cycles, including anti-wrinkle mode, and 2 heat settings.
Owner reviews suggest it's reliable.
Reversible door.
Cons:
6.5-cubic-foot capacity is on the small side.
Some users complain that drying takes longer than usual.
No end-of-cycle tone.
Reversing the door can be complicated, some owners say.
Takeaway: The Amana NED4655EW is an easy choice for buyers on a strict budget. There aren't a lot of bells and whistles, but it's the very basic-ness of this machine that owners appreciate. The controls are simple and straightforward, and although the heat settings are limited to just high and low, there are multiple drying cycles and temperature sensors to adjust cycle times and prevent overdrying. There are also small conveniences like a heatless tumble feature to prevent wrinkles if clothes can't be retrieved right away and a top-mounted lint trap designed for easy access and cleaning (although some owners aren't thrilled with the dust that's left behind when the screen is pulled out). Perhaps the biggest drawback of this model is its slightly smaller-than-average capacity, but many users say they like the compact profile and are pleasantly surprised by how much the drum can actually hold. Power output may be a bit of a problem, as well, and we did see some grumbling regarding loads that took multiple runs to dry. Still, with a $400 price tag, you won't find a better low-cost option than this Amana dryer, reviewers say.
The matching Amana NTW4516FW washer receives similar kudos and appears in our roundup of the best cheap washing machines. A gas version, the Amana NGD4655EW (est. price: $498; buy it from Home Depot), is also available.
Whirlpool Cabrio WED5000DW Review
Pros:
11 drying cycles, including 5 heat settings, and anti-wrinkle mode.
Hamper-style door makes loading and unloading easier, owners say.
7-cubic-foot capacity is fairly generous.
Both temperature and moisture sensors for more even drying.
Interior drum light.
Cons:
Doesn't dry heavy loads thoroughly, some users say.
A handful of complain that it's on the noisy side.
A few reports of defective units and long waits for service.
Takeaway: Although relatively basic and inexpensive, this 7-cubic-foot Whirlpool dryer earns a runner-up spot on Wirecutter's list of top dryers, besting several pricier models considered. It stands out for some handy features that other cheap dryers lack, including dual moisture and temperature sensors to prevent overdrying (most cheap dryers make do with just one sensor) and an interior drum light so you can find those stray socks wherever they're hiding. Many users appreciate that the pull-down door can double as a folding table. A few users warn that the door latch can snag on clothes if you're not careful. While earlier versions got some heat from experts for exposed sensors in the drum that could damage clothing, that issue has subsequently been fixed. Owner feedback on major retail sites is, for the most part, very positive, although there is some grumbling that larger loads may require a second cycle, and users either love or hate having the lint trap located on the top of the machine. Should something go wrong with the dryer, it sounds like Whirlpool may not be especially speedy to respond, but if you can find this machine on sale for around $500, the praise it receives suggests it's worth the risk.
For a full laundry room facelift, pair this Whirlpool Cabrio dryer with the matching WTW5000DW Whirlpool Cabrio washer. The gas version is the Whirlpool WGD5000DW (est. price: $630; buy it from Best Buy).
Samsung DVE45N5300 Review
Pros:
10 drying cycles, including sanitize, and 4 temperatures with lots of customization options.
Steam cycles eliminate wrinkles and freshen clothing.
7.5-cubic-foot capacity is big enough for a full family's worth of laundry.
Interior drum light.
Extremely positive owner reviews overall.
Cons:
Double-sided lint trap is hard to open, some owners complain.
Some reports of issues with drum (cracks or faulty pulleys) and heating element failure.
Takeaway: If you can afford to spend a little bit more, the Samsung DVE45N5300 is certainly a compelling buy. A majority of reviews we've seen suggest that its performance is nothing short of excellent, and the capacity is more than generous. The dryer is loaded with features rarely found in models at this price point. Alongside the increasingly standard sensor-dry setting, it includes steam cycle options, an anti-static mode, and an LED display that helps keep track of the time it will take before you'll have your finished load. With three color options — black stainless steel, merlot (i.e., dark red), and basic white — this Samsung dryer's stylish good looks also earn raves from consumers and experts alike. Reviewed.com enthuses, "a dryer can be more than useful — it can be beautiful, too." It's also stackable with a front-loading washer. (This larger-capacity dryer might be a tight fit in some spaces, however, because it's a bit deeper than average, at just over 32 inches.)
While a handful of owners complain of dryers that quit working after a year or two of use, and some say the design of the in-door lint trap can make it difficult to clean, few other dryers earn such positive user feedback — over the short and long term. If you can find this model priced at about $630, consider it an excellent deal.
If you'd prefer a Samsung gas dryer, there's the Samsung DVG45N5300 (est. price: $728; buy it from Home Depot).
Pros:
12 drying cycles, including sanitize and anti-wrinkle, plus 4 heat settings.
7.4-cubic-foot capacity suitable for large families.
Very accurate auto-dry functions, according to professional tests.
Interior drum light.
Energy Star certification.
Cons:
Some owners report durability issues.
Several say the moisture sensor bars and in-door lint trap can snag and damage clothes.
Many complaints about long drying times.
Takeaway: With a dozen drying settings and an ample 7.4-cubic-foot capacity, reviews say the GE GTD65EBSJWS can handle just about anything. In professional testing, the dryer's sensors (which monitor both temperature and moisture) performed consistently, reliably ending the drying cycle when clothes were just dry — a claim that can't be made for a lot of other dryers. Owners appreciate extras such as the lighted drum, the reversible windowed door, and the combination knob and electronic controls, which include an LED timer display (an especially handy feature given that some say the end-of-cycle buzzer is a bit hard to hear). Other modern touches include Wi-Fi compatibility, allowing the dryer to be controlled by app — but the adaptor for that costs extra, which is disappointing to some reviewers. Some users are also frustrated by the amount of time it takes to get clothes thoroughly dry, but the Energy Star rating and potential savings promised are a bit of a consolation.
As with most GE dryers, reliability is okay rather than stellar, according to reviews. But owners generally like this machine pretty well just the same, and there's lots of positive feedback to be found on retailer sites, where it tends to earn an average of 4.6 stars or more. If you're considering a purchase, shop carefully, as we saw lots of variance in the cost on this model; the best price you're likely to see is around $600.
GE also has an updated model, the GTD75ECSLWS (est. price: $678; buy it from Home Depot), which adds a steam cycle and built-in Wi-Fi to the mix. Depending on sales, it sometimes can be cheaper than the GTD65EBSJWS. However, reviewers at CNET suggest that some of those added bells and whistles hurt dryer's overall performance somewhat. A gas version, the GE GTD65GBSJWS, is currently selling for $700 (buy it from Lowe's).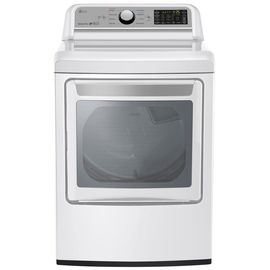 Pros:
9 dryer program options, including sanitize, anti-wrinkle, and other custom settings, plus 5 temperature levels.
Very generous 7.3-cubic-foot capacity.
Door can be opened vertically or horizontally, hamper-style.
Interior drum light.
Wi-Fi connectivity and app; compatible with Amazon's Alexa and Google Assistant.
High reliability and owner satisfaction.
Energy Star certification.
Cons:
Some owners say the digital controls are confusing to use.
Reversing the door can be difficult.
Takeaway: Although the LG DLE7200WE carries a slightly higher price tag, the brand's stellar reputation for reliability and performance make this LG dryer an excellent value, as does its Energy Star qualification (which means lower operating costs than competing machines). With a host of sought-after features — dual moisture sensors, specialized fabric settings and settings to remove wrinkles and bacteria from clothes, an inside light, an LED display — it's also got some extras you might never have thought you needed until now. The windowed door can be opened two ways for maximum loading convenience (users say the hamper-style option, which folds down only partially, works nicely as a kind of "laundry chute" to quickly add clothes and avoid spills) and Wi-Fi connectivity lets users start, stop, and monitor their laundry from a smartphone or digital home assistant like Alexa. You can even diagnose problems and troubleshoot via the app.
High-tech extras aside, this LG dryer is big enough to meet the needs of a typical family, and most owners say it does an exceptional job at the low-tech task for which it was designed: simply drying clothes. Satisfaction with this basic service is reflected in stellar user feedback and multiple "best buy" designations from experts. If you can find this dryer for a price close to $700, it's a very good deal.
See our washing machines report for our review of the matching LG WT7200CW. The gas version is the LG DLG7201WE. Look for it on sale for around $800 (buy it from Best Buy).
Pros:
Exceptionally large 8.8-cubic-foot capacity.
10 dryer cycles and 5 temperature and dryness levels, plus anti-wrinkle and sanitize modes.
Interior drum light.
Energy Star certification.
More robust warranty than many competitors.
Cons:
Electronic controls are confusing for some owners; some say the lint sensor is overly sensitive and sometimes misfires.
Rapid-dry cycle doesn't work well on larger loads, according to some users.
At over 32 inches deep, this dryer may not fit in small spaces.
Takeaway: This Maytag dryer, part of the Maytag Bravos XL line, is one of the largest-capacity models you can buy. The 8.8-cubic-foot drum can swallow king-size bedding or a large load of towels with ease, while the rapid-dry cycle is perfect for quickly drying a few garments when you're in a hurry. Other nice touches include multiple sensors to monitor both temperature and moisture levels, an interior light in the drum, a reversible door with a window, adjustable volume on the end-of-cycle tone, and a digital display showing how much time remains. As with other dryers, if you overstuff this one, it may not dry clothes thoroughly — especially on the quick-dry cycle — and some owners say the digital controls could be easier to use (sometimes it's hard to tell if commands have registered). The unique fold-over design of the front lint trap earns both fans and detractors for ease of cleaning. The lack of a steam cycle is also a bit of a letdown, given that the cost of this machine can come in at close to $900. But at the right price — under or around $800 — it may be worth forgiving the omission.
Overall this dryer is well-respected by experts and widely adored by owners. Two other points in its favor: It meets Energy Star standards for efficiency, a cost saver if you do lots of laundry regularly, and Maytag guarantees the drum and motor for 10 years, in addition to the industry-standard 1-year warranty on other parts.
Looking for an extra-large-capacity Maytag gas dryer? You can pick up the Maytag MGDB835DW for about $100 more than its electric counterpart (buy it from Best Buy).
Magic Chef MCSDRY1S Review
Pros:
Covers the essentials with 5 drying options; temperature settings include air dry and cool.
Rust- and chip-resistant stainless steel drum.
Weighs less than 50 pounds; can be wall-mounted or placed on a countertop.
Plugs into a regular 110-volt (120 VAC) electrical outlet.
Cons:
Less than half the capacity of a typical full-size dryer.
Often leaves clothes damp, owners complain.
Lint catch, which attaches to the back of the drum, can be hard to remove and requires frequent cleaning and filter replacement.
Controls can be hard to reach if the dryer is placed on the floor.
Takeaway: If you're looking for a compact dryer for a small apartment, a condo, or another place where a full-size dryer just won't fit — such as an RV — the Magic Chef MCSDRY1S is a good choice. It's actually fairly well-equipped considering its size and incredibly low price, with a sensor-dry option as well as an eco mode to help cut energy costs. The machine's stainless steel drum is a rarity when many dryers rely on powder- or porcelain-coated steel, aluminum alloys, or even plastic. Also, you don't need a 240-volt hookup, like you would for a full-size dryer; this portable model works with a standard outlet. This diminutive machine is so small it can even be hung on the wall above a washer to make the most of a tight space like a closet. Even more convenient, it doesn't need to be vented to the outside — although some owners say letting the exhaust vent inside can make the room feel a bit muggy.
We did see some reliability complaints, but this Magic Chef dryer actually fares better in that regard than many other compact, portable dryers. The 2.6-cubic-foot capacity (enough to handle about 9 pounds of clothes) is pretty limiting, and it can take a little longer for laundry to dry, but most users say they're satisfied with this space saver even if it means sticking to smaller loads.
This dryer can be paired with the similarly compact and well-reviewed Magic Chef MCSTCW16W4 washing machine.