Best Espresso Machines
We scoured expert and user reviews to find the best espresso machines for the money. These espresso makers produce rich-tasting espresso shots in minutes, and many have frothers for cappuccinos and lattes. We've got inexpensive pod espresso machines from Nespresso, as well as faves like DeLonghi and Capresso.
What We Considered
Our research drew on reviews and testing results posted by experts, including CNET, TopTenReviews, and Consumer Reports. We also looked to niche sites maintained by knowledgeable experts, such as Whole Latte Love, Coffee Geek, Seattle Coffee Gear, and Fourth Estate Coffee. For input from everyday users, we turned to Amazon, Bed Bath & Beyond, Best Buy, Walmart, Target, Macy's, Crate & Barrel, Williams Sonoma, and manufacturer web pages.  
Semi-automatic and automatic machines typically use a pump to push water through the coffee grounds. Pump pressure is measured in bars: The more bars, the more pressure. There is some disagreement about the number of bars needed to brew the best espresso. Nine bars is generally considered the sweet spot, and many experts argue that anything above this number is superfluous. Other experts say they would rather a machine tout a higher number of bars and automatically regulate down to nine bars of pressure than struggle to reach that level, and note that a higher number of bars means a shorter wait between shots.
The espresso machines on our list of top picks feature at least 15 bars of maximum brewing pressure, although brewing typically occurs at a lower level. One notable exception: With its Vertuo line, Nespresso has pioneered a new extraction method by which centrifugal action, rather than a pump, is used to circulate water through espresso pods. Termed "centrifusion" (centrifugal action plus water infusion), this technology, coupled with bar-coded pods that tell the machine exactly how much water is to be added and the optimal brewing time, is said to produce a great cup. (It also makes cleanup even easier, as the high spin rate leaves behind a completely dry pod.)
The portafilter is the long-handled attachment that holds espresso grounds or ESE pods. Pressurized water flows through this gizmo and produces the espresso and crema. A commercial portafilter gives the most control over the brewing process and occasionally appears in higher-end machines designed for home use. It also has the steepest learning curve and is far more susceptible to user error.
The pressurized portafilters on entry-level espresso machines require less expertise but have their own drawbacks. Pressurized portafilters tend to be lightweight and less durable, and they aren't as good at maintaining heat. They can produce a messy, soggy "puck" — a hunk of grounds left over after the water flows through. Users find that aggressive tamping or over-grinding can clog the portafilter and cause the grounds to explode out of it. On some semi-automatic espresso machines, it's possible to change out the pressurized portafilter for a non-pressurized one like the type found on commercial machines. Still, that's an extra expense.
Many espresso machines offer some type of cup-warming tray to take the chill off a ceramic cup and maintain the heat of the beverage. Cup-warming trays are either passive (heat from the boiler warms the cups) or active (there's a separate heating mechanism). Most machines in the budget range feature passive warming trays, which may not be all that useful. By the time the machine is ready to brew, the warmer has only just started to heat. Some users opt to run a cycle with only water to warm up the cups and then proceed with the espresso.
Our Top Pick
DeLonghi Nespresso Vertuo Review
DeLonghi Nespresso Vertuo Review
When making espresso or coffee, it doesn't get any easier than a machine that eliminates the need for grinding, measuring, and tamping. That's one reason users rave about the Nespresso Vertuo, and pod machines in general. Another, according to reviews, is that this (Breville-made) Nespresso coffee machine makes better coffee and espresso than the other brands. This might be due, in part, to its pump-free technology: A special "centrifusion" process sends water through the grounds in the capsule and sets it spinning at high speeds to extract the blend and leave a dry capsule behind. In another technological advance, each capsule comes with a barcode that tells the machine exactly what it needs to do to achieve the optimal blend. In fact, the delivery system is so foolproof that, the only real complaint we saw from users is that the temperature of the drinks leaves many a bit, well, cold. A bundled version is available with an accompanying Aeroccino frother, which adds about adds about $35 to the price (buy it on Amazon) but also opens up the possibility of frothing hot or cold milk for uses besides coffee.
Produces high-quality, rich-tasting espresso and regular coffee, reviews say.

Uses prepackaged pods, which minimizes cleanup and adds convenience.

More options than competing espresso machines, including single and double shots, gran lungo, traditional coffee, and even alto (14 ounces).

Heats up in just 15 to 20 seconds.

Automatically turns off after 9 minutes of idle time.
Many users complain about lukewarm output.

Takes only proprietary Nespresso pods; some pushback in reviews over price and limited supplier options.

Pods are recyclable, but doing so can be a hassle.

1-year warranty; some Nespresso machines offer longer coverage.
A good entry-level espresso machine, the semi-automatic DeLonghi EC702 pleases hundreds of owners with its ease of use and high-quality espresso with the requisite crema, which strikes some reviewers as totally authentic. With separate thermostats for water and steam, brewing and frothing can be accomplished simultaneously, so the espresso and milk can come together at optimum heat. The downside, according to some reviews, is a relatively short lifespan, and like most of the competition, it carries only a 1-year warranty.
Accommodates pods or ground coffee; single or double shot.

Self-priming unit heats quickly; stainless steel boiler maintains temperature, so users can brew several cups without waiting.

Separate thermostats for water (coffee) and steam (milk).

Milk frothing wand; cup warmer on top.

User-friendly operation appeals to novices.
Scattered gripes in reviews that shots are weak, the water reservoir is tricky to remove, and the filter may fall out.

Puck is on the wet side, so cleaning can be messy, owners say.

Must be shut down manually.

Some reports of early demise.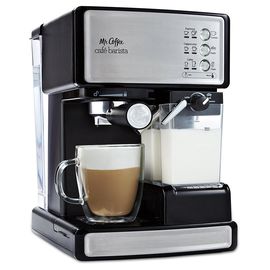 Mr. Coffee Café Barista Review
The semi-automatic Mr. Coffee Café Barista might not satisfy espresso geeks, but a vast majority of owners are thrilled with its performance and the money saved by preparing their daily brew at home. Users crow that it makes espressos, cappuccinos, and lattes that rival drinks at popular coffee chains. Although it's not incredibly powerful, at 1,040 watts, it has a full 15-bar pump and turns out a cup with a good crema in less than two minutes. The integrated milk frother, which deposits steamed milk directly into the cup as espresso pours out, is a winning feature; neither the espresso nor the milk has a chance to cool while awaiting the addition of the other.
Mixes frothed milk and espresso directly in the cup for cappuccinos and lattes.

Produces single and double shots; accommodates ground beans and pods (with purchase of a pod portafilter).

User-friendly controls: Just select the brew type and hit a button.

Control dial for choosing the foam level for milk.

Adjustable cup tray lets users select any size cup or mug; cup warmer shelf on top.

Programmed cleaning cycle.
Some complaints about inconsistent water temperature and insufficiently hot water for top-notch espresso.

Longevity may be limited to a few years, reviews suggest; 1-year limited warranty.

Scattered grumbling about dripping after extraction.

Portafilters clog if beans are ground too fine, according to some reviews.
DeLonghi Nespresso Inissia Review
This unassuming, little Nespresso machine by DeLonghi makes a good number of espresso drinkers happy with its price and performance. It's a fast and easy way to get good espresso consistently, reviewers say, and many consider the brew just right, although a few say the lungo can be hit or miss. Reviews also say the Inissia (EN.80) is well-suited to office environments, taking up little space, producing no mess, and requiring little cleanup. Cappuccino and latte fans may want to look elsewhere, given the absence of a frothing mechanism, or they can look for a bundle that includes an Aeroccino frother along with the machine. Those worried about finding the pods will be happy to know that, in addition to the online site, Nespresso has an app that allows users to order replacement pods directly from their phones or find stores that sell them nearby. The app also provides recycling locations.
Cheapest Nespresso machine available.

Makes espresso (ristretto) and lungo sizes; automatically shuts off.

Heats up in 25 seconds; 19 bars of pressure.

Drip tray folds up to fit larger cups.

Incredibly compact, at just 4.7 inches wide and 9 inches high; easily stows away; carry handle.

2-year warranty is longer than many competitors'.
Takes Nespresso pods only.

Lacks a frothing mechanism for milk.

Lifespan may be limited to weeks or months, according to some reviews.
A cheaper version of the iconic Nespresso machines, the Gourmia GCM6500 sates many users' thirst for espresso, cappuccinos, and lattes at a budget price. In fact, according to many reviewers, it makes the best espresso going. This model also wins over fans with its simplicity and precision — there's no guesswork or learning curve. It uses prepackaged pods, and milk for cappuccinos and lattes is frothed and meted out automatically. But for the ease, users sacrifice some control, quality, and choice, and aficionados caution against expecting a brew that rivals the offerings of the best high-end café. Reliance on Nespresso-style pods specifically is a pitfall; users gripe about their limited availability.
No measuring required: pod-only system for coffee and a preprogrammed amount of milk.

1-touch operation: just press a button for an espresso, lungo, cappuccino, or latte; auto shut-off.

Milk reservoir; frothed milk automatically flows directly into the cup.

High-powered, at 1,500 watts; 19 bars of pump pressure; heats up in 60 seconds.

Removable drip tray accommodates taller cups.
Takes Nespresso or Nespresso-compatible pods only.

Thin crema, according to reviews, and drinks aren't hot enough.

Some complaints about build quality, leaking, and short lifespan.
The Capresso EC100 (model #116.04) is a good gateway into the world of at-home espresso brewing. This semi-automatic machine is a breeze to use, according to owners, producing hot and flavorful shots with a thick, rich crema. Some more experienced reviewers, however, say the water doesn't get quite hot enough to turn out a truly optimal espresso. Still, the brand claims its share of loyalists, and some who've had an older one conk out report buying the same one again because of the value for the price. Costco members can snag even greater savings on this Capresso espresso machine, which is widely available at a number of bricks-and-mortar retailers.
Option to brew 2 cups simultaneously.

Heats up quickly, reviewers say.

Takes ground beans or prepackaged pods.

Frother adjusts to 2 positions for lattes or cappuccinos.

Removable drip tray allows this machine to accommodate a regular-size cup.

Stainless steel cup-warming platform on top.
Some complaints in reviews about dripping and leaking.

A few consider the brew to be on the weak side.

Limited lifespan, according to some users.
The DeLonghi EC155 may not win a gold star for unassailable performance and design, and it also doesn't pack a ton of power, at just 1,100 watts, but it delivers a convincing and satisfying brew, according to hundreds of reviews. This is espresso as it should be, many reviewers report. The machine comes with a very modest price and convenient features, including the option of using pods or ground beans and making two separate shots at once. The compact footprint also makes this user-friendly, semi-automatic model a good gift for any household of espresso fans.
Takes ground beans or pods.

Produces a single or double shot, or 2 cups simultaneously.

Self-priming function heats quickly, so there's no wait between brews.

Anti-drip design; puck comes out dry if the grounds are well-tamped, users say.

Frother for lattes and cappuccinos; cup warmer on top.

Separate thermostats for water (espresso) and steam (milk); adjustable steam.

Unusually lightweight, at 3.5 pounds; doesn't take up much counter space.
Accommodates small espresso cups or shot glasses only.

Frothing wand is low; some reviewers complain that a pitcher doesn't fit.

Shots are inconsistent, experts say, because the temperature control is not always consistent.

Some reports that the pump gives out within a year or so.
Other Products We Reviewed
Features Comparison
DeLonghi Nespresso Vertuo
Single or double espresso, gran lungo, alto, coffee
N/A (centrifusion technology)
Single or double espresso
Single or double espresso, cappuccino, latte
Integrated with milk reservoir
DeLonghi Nespresso Inissia
Nespresso-compatible pods only)
Single or double espresso, lungo, cappuccino, latte
Integrated with milk reservoir