To identify the best cheap portable generators, we consulted trustworthy sources that conduct product testing, such as Consumer Reports, Top Ten Reviews, Popular Mechanics, and Wirecutter. They often review models that cost more than $1,000, so we also relied on specialty retailers and enthusiast sites that compare cheaper portable generators, as well as hundreds of customer reviews on retail sites including Home Depot, Lowe's, Amazon, and Walmart. Expect to pay about $300 for a small, gas-powered portable generator that can run two or three items for camping or tailgating, or provide a backup power source during storm season. A more robust generator to power your RV or run all essential home appliances can cost up to $600 or more. (For consumers in California, a majority of our picks are CARB compliant.)
Editors' note: Generators regularly sell out, regardless of season, and top-rated models can be on back order for weeks. Prices fluctuate frequently, sometimes by $50 or more, so buy right away if you find a bargain.
See full Buying Guide
Pros:
Impressive power for a generator in this price range.
Fuel-efficient for its size; can run up to 12 hours on a 4-gallon tank.
Simple to set up and operate, with included tool kit, oil, and funnel.
Users say it starts easily on the first or second pull.
Cons:
No wheel kit included, making this 112-pound generator difficult to move for some.
Position of pull cord makes it hard to grasp, a few reviewers say.
A handful of buyers complain of units received with damaged or missing parts.
Takeaway: The entire Westinghouse WGen line gets strong reviews from professional testers and consumers alike for its balance of price and features. Most owners say the Westinghouse WGen3600v portable generator offers a lot of power (3,600 running watts; 4,650 watts at peak) at an incredibly low price, capably running multiple home appliances at once, including a refrigerator, freezer, microwave, and TV. And it features plenty of outlets to make those connections, including a standard 120-volt household double outlet, one 120-volt twist-lock outlet, and a 120-volt three-prong RV outlet. The manufacturer rates the noise level at 62 dB running at half load, about as loud as a normal conversation, which makes it relatively quiet for a gas-powered generator of this size. The lack of wheels limits portability, but given the low price, many homeowners say they find the trade-off acceptable. If a wheel kit is important to you, a similar product, the Westinghouse WGen3600, sells for about $80 more. Both Westinghouse generators carry three-year warranties.
Champion Power Equipment 46539 Review
Pros:
Plenty of backup power to run several home appliances and electronics at the same time.
Very fuel efficient; operates for up to 12 hours on less than 4 gallons of fuel.
Push-button electric ignition and wireless remote for easy starts.
Folding handle and wheels for easy portability.
Auto voltage regulator with built-in meter.
Cons:
Pretty heavy, at nearly 125 pounds.
Small fuel tank opening can be hard to fill, some owners complain.
Takeaway: This generator has been around for a long time, and it's clear why it remains a favorite among budget-minded consumers and professional industry review sources. The Champion 46539 has an impressively long run time and, with 3,500 running watts and 4,000 starting watts, it can easily handle a pretty heavy power load. It features the usual lineup of outlets, with dual 120-volt household connectors, twist-lock outlet, and three-prong RV outlet. In addition to built-in wheels, the electric starter and remote make it especially easy to operate; there's a recoil starter, too, just in case. Rated at 68 decibels (slightly less noise than a vacuum) when running at half speed, it's not necessarily quiet, but it's also not too loud. This Champion portable generator carries a three-year warranty.
Champion Power Equipment 46533 Review
Pros:
Longtime top seller from a brand known for quality and reliability.
Works well for emergency power and can run multiple household appliances for 12 hours on a single 3.8-gallon tank of gas.
Easy to start and operate.
Auto voltage regulator with built-in meter.
Cons:
Weighs 98.3 pounds and no wheel kit is available.
Pull cord prone to breaking, a minority of owners say.
Takeaway: The Champion Power Equipment 46533 portable generator is a real workhorse, with enough juice (3,500 running watts; 4,000 starting watts) to run most if not all home appliances and electronics. While its low cost means sacrificing certain conveniences that you'll see in pricier models, like wheeled portability and electric start-up, its recoil starter is simple to manage and it's actually lighter than many other gas-powered portable generators in its class. It also has some nice features, such as a voltage regulator with a meter to monitor power consumption and RV and twist-lock outlets alongside its 120-volt household outlet. The Champion 46533 is rated at 68 decibels, which is comparable to other generators of this size, but we did read a handful of complaints from consumers who say they were surprised by how loud this unit was. Nevertheless, it's a proven performer at a nice price that has served many storm-struck homeowners well. Like other portable Champion generators, this model comes with a three-year warranty.
Buffalo Tools Sportsman GEN4000LP Review
Pros:
Good for recreational and emergency home use, with enough power to run a freezer/refrigerator, lights, and more.
Many buyers say it's not difficult to set up and starts easily and consistently.
Very fuel-efficient; can run for 10 hours on a 20-gallon tank (at 50% load).
Two 120-volt outlets and one 12-volt DC outlet in addition to an RV outlet.
Cons:
Rated at about 68 dB; some buyers say it's louder than expected.
Doesn't include a wheel kit and weighs 102 pounds.
1-year warranty is shorter than other brands.
Takeaway: The Sportsman GEN4000LP portable generator from Buffalo Tools is a longstanding choice for bargain-minded consumers seeking an alternative to gas-fueled generators. Its propane fuel source means both safer long-term storage and no fear of long gas lines or shortages in a widespread weather emergency. While there are some reports of units that arrived damaged or proved unreliable, most reviews of this model praise its ease of use and power. Although this Buffalo Tools portable generator does meet EPA emissions standards, it doesn't meet the more stringent California Air Resources Board (CARB) criteria. You can get a 50-state compliant version for about $35 more. Both products feature 3,250 running watts and 4,000 watts of peak power.
Westinghouse iGen2200 Review
Pros:
Very quiet, with noise level of 53 dB; ideal for tailgating.
Small and lightweight, at just 46 pounds.
Easy to use and easy on fuel; needs only 1.2 gallons of gas to fill the tank, and efficiency mode stretches standard run times to as many as 12 hours.
Features include 2 USB ports, as well as dual 120-volt household outlets.
Cons:
May not have enough power to run every home appliance.
Lacks a fuel gauge.
Takeaway: Looking for a portable generator that's quiet enough for social gatherings or camping? This Westinghouse iGen2200 portable inverter generator earns very solid marks from owners and industry enthusiasts. There are very few reports of problems, and most users say this generator is quiet, efficient, and easy to start. Several claim it stands up to models that cost more than twice as much, notably the Honda EU2200i. Like other inverter generators in this price range, the Westinghouse doesn't have an overabundance of features and it's designed primarily for recreational use, but, with its 1,800 running watts and 2,200 peak watts, it can power the essentials in an emergency. It can also be joined to a second portable generator for additional output. The Westinghouse carries a three-year warranty.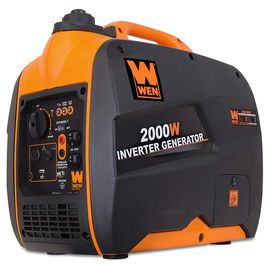 Pros:
Relatively low price for an inverter generator of this size.
Owners say it's fairly quiet, even at full power.
Has a DC 12-volt outlet in addition to its two 120-volt household outlets and USB outlet.
Cons:
6-hour run time is shorter than other inverter generators.
Some consumers say adding/changing oil can be messy.
Several reports of early demises.
Takeaway: Inverter generators carry a price premium, but they're worth the money if you camp frequently or own an RV because they're more quiet and compact than gas-powered models. This Wen generator's power output is modest but adequate, at 1,600 watts running and 2,000 watts at peak, and reviewers say that for the low price it can't be beat. It's a popular choice with consumers and gets nods from both enthusiasts and experts at sites like Top Ten Reviews, where it's praised for its portability and sleek design. A handful of owners do grouse about noise (it's rated 51 dB at a quarter load), and some say it took more than one or two pulls to get their units started, but feedback overall is positive. The Wen 56200i carries a two-year warranty.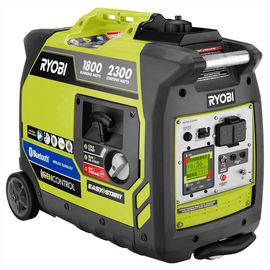 Pros:
Bluetooth technology and app allow users to check on the fuel level and turn off the generator remotely.
Parallel kit for running two generators at once.
Two 120-volt household outlets and two USB ports.
Can automatically adjust to match power needs; 1.2-gallon tank can power a quarter load for up to 10.3 hours.
Built-in wheels and a pull-out handle for easier portability.
Cons:
Reports of faulty units; several users complain of frequent shutdowns requiring resets.
App doesn't allow remote starting.
Takeaway: Ryobi's RYI2300BTA is a relatively affordable inverter generator packed with perks. The accompanying app, with its remote shut-off capability, is one of its best features, according to consumers. There's also an LCD screen that provides stats on remaining run time, load, and fuel level. The compact size, wheels, and handle make it ideal for RVing and camping, and it's powerful enough to run a refrigerator, yet gentle on sensitive devices like computers and cellphones. On the other hand, some users say it's very easy to overload this unit — many have had trouble running an air conditioner or operating more than one major household appliance at once. For lighter loads and recreational use, however, most buyers seem very satisfied. This Ryobi generator is covered by a three-year warranty.
Generac GP3250 (5982) Review
Pros:
Very good build quality, with a durable steel frame and steel fuel tank.
Wheel kit and fold-down handle make it easy to move around.
Features 120/240-volt twist lock outlet for appliances that require more powerful connections.
Cons:
Amperage may not be high enough; some users say the circuit breaker is easily tripped.
No noise rating from manufacturer, and some say it's a bit loud.
Some reports of defective units and problems with the pull cord breaking.
Takeaway: The Generac GP3250 portable generator is sturdy and built to last, but still compact and easy to cart with its attached handle and wheels. It also has enough power to run just about anything needed in an emergency, although some users would still like a little more punch: We read several reviews from owners who say certain power tools can easily overload the system, so we wouldn't necessarily recommend this generator for power construction projects around the house. Still, it's a dependable standby that serves well in a pinch. This Generac generator carries a two-year warranty.