Best Portable Generators
Compare prices and features for gas-powered emergency generators that are small, light and quiet enough to use the next time the lights go out. See which of our picks for portable power gets top marks for performance and reliability. All models listed are budget-friendly at less than $600.
What We Considered
To identify the best cheap portable generators, we consulted expert commentary from sources that conduct product testing, such as Consumer Reports and Wirecutter, as well as buying guides and reviews from online sites and retailers specializing in generators and other outdoor power equipment. We also waded through reviews from hundreds of consumers on retail sites such as Home Depot, Lowe's, Amazon, Walmart, and specialty vendors to get hands-on assessments of the inexpensive portable generators we landed on. Generally speaking, and barring the occasional defective unit, buyers really like the generators on our list, with only a handful of nitpicks, such as a generator being louder than expected, or lacking built-in wheels.  
The most important criterion when choosing a portable generator is how much power it produces, measured in watts. Manufacturers specify starting watts and running watts. The starting wattage is always a higher number, because many appliances require more watts to initially power them up than to keep them running.
To keep your home functioning during a blackout, you want a generator with enough juice to run critical appliances as well as multiple must-have electronics — otherwise you'll be forced to choose which items to shut off so the generator can power the rest. Maybe you can get by without a 1,000-watt microwave, or even an air conditioner, for a day or two, but you certainly don't want to have to decide between the refrigerator and the heater.
Generally, this means looking for a generator that provides at least 3,000 watts of running power. Fewer watts can keep some essentials running in an emergency, but the amount of power that a refrigerator, heating and cooling system, house lights, radio, TV, and laptop require adds up quickly. Factor in a space heater, and even a simple coffee maker or iron, and your total household wattage will likely sail well past 3,000. (An online wattage calculator, such as these from Honda and Northern Tool, can help determine how much power you need.)
Although the inverter generators we recommend aren't necessarily intended to serve as emergency power sources, many consumers who initially bought them for use on the go say they've proved handy at home, as well. Users don't have to fear that sensitive electronics like computers, cellphones, and tablets will get fried due to power bursts. All the inverter models we recommend can also be paired with another unit to increase their power output, if desired. (Parallel cable kits are sold separately.)

Portable generators have simple startup mechanisms — usually a recoil starter: a simple pull-cord, like the type used on most gas lawn mowers. Some models feature an electric starter but also include a recoil starter as backup. According to reviews posted by users, the models we researched pose few startup challenges. Most of them consistently start with just one or two pulls.
Portable generators typically have three or four outlets, but they're not all standard, household-type plugs. Aside from regular 120-volt outlets for lamps, refrigerators, heaters, and the like, generators often include a 120-volt outlet designed for RVs in addition to a twist-lock outlet that keeps a plug securely in place. A generator with more than one standard 120-volt outlet is the best option, because more than one extension cord can be attached to serve more household needs.
Inverter generators, which are designed to power sensitive electronics such as smartphones and tablets, typically include at least one USB port and sometimes two, and perhaps a 12-volt DC outlet as well. None of our recommended generators includes a 120/240-volt outlet (good for appliances that need a more powerful connection, like certain power tools, furnaces, and pumps); that feature is only found on more expensive models.
Portable generators can be fairly loud, even though many have mufflers. Most of our picks come in under 68 decibels — which would be less strident than the sound of a home vacuum cleaner — but even that can seem a bit much for some ears, particularly for hours at a time. Inverter generators generally produce less noise than conventional generators, usually 50 dB or less, which is another reason they are often preferred for camping trips or RV parks. For consumers willing to pay a premium for less noise, Honda is known for its line of whisper-quiet generators.
Our Top Pick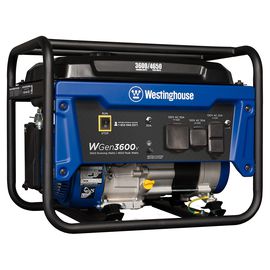 Westinghouse WGen3600v Review
Other Products We Reviewed
Features Comparison
Champion Power Equipment...
1 x 120v locking, 2 x 120v, RV
1 x 120v locking, 1 x 120v duplex, RV
Champion Power Equipment...
1 x 120v locking, 1 x 120v, RV
1 x 120/240v locking, 1 x 120v duplex
Buffalo Tools Sportsman...
10 hours per 20-gal. tank
1 x 120v duplex, 12v DC, USB
Briggs & Stratton P2200...