Get Your Kicks
Razor dominates as one of the best scooter brands around, with a lineup that includes affordable entry-level scooters for tots and whooshes all the way to high-quality electric scooters designed for teens and up. But there are a host of other popular names in the kids' scooter market that are also worth checking it out. We've scoured expert and enthusiast reviews to round up the best kids' scooters for every age bracket — from three-wheel kick scooters for kids age 2 to 5, to standard two-wheelers and pro scooters for older kids who are big on tricks, to an electric ride that's suitable for a child as young as 8 years old. There's even an off-road scooter for more adventurous tweens and teens. Our full buying guide explains what to look for when deciding on the best ride for your kid.
Prices and availability are subject to change.
See full Buying Guide
Our Top Pick
Micro Kickboard Sprite Review
Micro Kickboard Sprite Review
Best Kids' Scooter for Overall Value
Pros:
Built for a range of riders, with a weight capacity of up to 220 lbs.
Telescoping, adjustable-height handlebars can accommodate kids and adults.
Larger front wheel (120mm) for a smooth ride.
Folds easily for transit and storage; very lightweight, at just 5.9 lbs.
2-way kickstand lifts forward or back.
Available in multiple colors, including silver, red, black, blue, and purple.
Cons:
Too much scooter for small kids, some parents say.
Some tall, heavy riders say the deck doesn't feel sturdy enough.
On the pricier side.
Takeaway: In user reviews, several parents say they have as much fun riding the Micro Sprite as their kids do. It's recommended for kids 8 years old and up, and all but the tallest riders say the adjustable handlebars can be set to a comfortable height. Most owners concur that the urethane wheels glide smoothly over paved surfaces. Some reviewers even suggest that the high-quality aluminum frame is sturdy enough to handle small hops or jumps, even though this kick scooter isn't designed for serious trick riding. Like many of the best kids' scooters in this price range, this Micro scooter has a foot brake over the back wheel, which some riders may find a little awkward to use at first, but most say the rear fender brake is effective at stopping safely. The Micro Sprite also has a built-in kickstand, a nice convenience.
While the big advantage of this scooter is its suitability for a wide age range — so it can grow with a child or be used by multiple family members — the most common complaint among owners is that younger and less experienced riders may find the Micro Sprite a little difficult to handle. A handful of reviewers also say that the deck tends to feel a bit creaky and flexy when ridden by heavier users. (The company suggests adult riders might be better served by other Micro scooters, including the Micro Suspension series, suitable for adults up to 250 pounds.) Still, for older kids who have mastered the basics of riding — and at least a few parents, too — the Micro Kickboard Sprite is a great choice for scooting around the neighborhood. This scooter carries a two-year warranty.
Razor A3 Review
Price: $49
Buy it from Walmart
Best Cheap Kids' Scooter
Pros:
Designed for better comfort and stability, with large wheels (125mm front and back) and a suspension system.
Adjustable handlebars to suit riders of many heights.
Stunt-friendly features include fully rotating handlebars and a wheelie bar.
Hands down the most popular scooter brand, Razor has a good reputation for quality and longevity.
Cons:
Some users struggle with the folding mechanism.
180-day warranty is relatively short.
Takeaway: Razor wasn't the first company to make kick scooters, but it's considered one of the best, and it's the brand that defined the category. The A3 — an updated version of the original Razor A scooter that debuted in 2000 — draws lots of praise from owners for its lightweight (6 pounds) yet durable frame, made of aircraft-grade aluminum. Most riders find the telescoping handlebars easy to adjust, and it's also extremely portable, folding up nicely for travel or storage. But where the Razor A3 really shines is out on the street: Most reviewers say it rides smoothly over concrete and asphalt, and its relatively big urethane wheels go fast and easily handle small cracks in the sidewalk. And, although it's not officially classified as a trick scooter, it even draws a nod from testers at Wirecutter for its stunt-friendly features.
All told, this is a great all-around scooter that can do a bit of everything — including carting adults. But, while a number of parents say they love riding this scooter as much as their child does, the A3 is rated for ages 5 and above, with a maximum weight limit of 143 pounds. Grown-ups looking for a ride more suited to sharing should consider the widely popular Razor A5 Lux. It has a 220-pound weight capacity, even bigger wheels (200mm), and a kickstand — but sorry, Mom and Dad, no more wheelies!
Micro Kickboard Mini Original Review
Best 3-Wheel Kids' Scooter
Pros:
3 wheels and low deck offer confidence-building stability.
Non-marking, urethane wheels are ideal for indoor/outdoor use.
Larger (120mm) front wheels glide smoothly over most surfaces, a majority of owners say.
Very easy to assemble.
Available in 8 colors.
Cons:
At 24 inches from the deck, non-adjustable handlebars may be a little high for a shorter child.
Rear fender brake may be a bit difficult for younger riders to operate.
Not designed for kids over 44 lbs.
Takeaway: If you want a safe, stable ride for your 2- to 5-year-old, consider this three-wheel scooter. The Micro Mini earns raves from parents and professional reviewers (including an endorsement from NBC's "Today" show) as one of the very best scooters around. It has two wheels in the front and one in back, and a fixed handlebar to give little ones some extra support. Instead of turning the handlebar to steer, they lean and use their body weight to direct the scooter, almost like a skateboard. It's among the best-selling scooters for small kids, alongside the slightly more expensive Micro Mini Deluxe, which Wirecutter suggests outranks the standard Micro Mini only for its adjustable-height handlebars, which can be set from 17 to 25 inches from the deck, allowing more wiggle room for growing kids. The Micro Mini Deluxe also has a higher weight threshold, at 75 pounds.
Whichever Micro Mini you choose, the wealth of 5-star reviews from owners suggests you and your little rider won't regret the purchase. In fact, critical reviews are extremely rare. Aside from a handful of owners who complain of brakes that needed to be replaced and a few who were a bit disappointed by the deck's plastic construction, we were hard-pressed to find any real strikes against this crowd-pleaser. The Micro Mini carries a two-year warranty.
Radio Flyer Lean N' Glide with Light Up Wheels Review
Price: $40
Buy it from Walmart
Best Cheap 3-Wheel Kids' Scooter
Pros:
Sturdy, low, and wide deck for stability.
3 urethane wheels are better quality than plastic.
Wheels light up in motion, adding a bit of pizazz and fun (no batteries required).
Adjustable-height handlebars suit many riders and grow with a child.
Softer, chunky foam grips for little hands.
Accommodates kids up to 60 lbs.
Minimal assembly; just snap a few pieces together.
Cons:
Wheels tend to wear quickly, owners say.
A few complaints about overall durability.
Takeaway: Radio Flyer's My First Scooter developed a loyal following over the years and earned hundreds of positive reviews, making the brand a go-to for toddler scooters. This updated Lean N' Glide scooter is made for both tiny tots just beginning to ride and kids a bit older, with several design updates that are an improvement on the original. This is no cheap, plastic kids' toy. Like the best scooters, it's stable and sturdy, thanks to the three-wheeled deck and steel frame, reviewers say, and plastic wheels have been swapped with urethane. Kids absolutely love the light up wheels. The telescoping handlebar is covered in foam padding, and the lean-to-steer maneuvering is better for safety and control. Some parents do say it takes a little while for young ones to get adjusted to the unique steering, and sometimes learning to use the scooter's foot brake can be a bit of a challenge, but a majority report that kids (some as young as 2 years old) are quickly zipping about on this Radio Flyer scooter. The Radio Flyer carries a one-year warranty (two years if you register online) and is recommended for kids age 3 and up.
Envy Prodigy Series 7 Review
Best Pro Scooter for Kids
Pros:
High-quality components and "complete," out-of-the-box-ready stunt build for intermediate-to-advanced riders.
Easy to customize with pegs and additional components for trick riding.
Large, hollow-core wheels are super-fast, owners say.
Aluminum deck is rugged and durable.
Comes in 5 color schemes (with cool names): black, midnight, splatter, scratch, and oil slick.
Cons:
On the pricey side, although relatively affordable for a top-name pro scooter.
Paint is prone to scratching, a few owners complain.
Takeaway: Envy has a dedicated following among older riders for its pro-grade scooters and components, and the company is a mainstay on the competition circuit. Although the Envy Prodigy Series 7 is too new to have accumulated many reviews yet, owner feedback suggests this updated version of the Envy Prodigy Series 6 will be just as reliable as its predecessor, a reviewer favorite. This scooter arrives with 120mm x 24mm wheels made of 86A urethane, which are faster and provide better traction than the smaller wheels that cheaper kick scooters come with. If your child wants to go even faster, this Envy scooter's stock wheels can be replaced with even larger 125mm wheels. The nylon flex fender brake also cuts down on noise, keeping the ride smooth and stealthy. The head tube assembly is built of forged (instead of welded) steel to withstand the kind of abuse that aggressive riding can dish out, and most owner reviews we read suggest this Envy scooter will take a licking and keep on tricking.
While the scooter is touted for kids of all ages (there's no weight capacity listed), it's generally better suited to older kids 8 and up. And, given the price, it certainly makes sense to see how serious your young rider is before upgrading from the "regular" scooter realm. Envy scooters come with a one-year warranty.
Best Cheap Pro Scooter for Kids
Pros:
Versatile, beginner pro scooter that's good on all terrain and sturdy enough for moderate trick riding.
Comes complete and is very easy to assemble, according to owner feedback.
Wheels can be upgraded; adjustment tool included.
Available in 9 color schemes.
Gets the nod from a wide range of experts, including BestReviews, Two Wheeling Tots, and many industry enthusiasts.
Cons:
Wheels must be tightened frequently, some owners say.
Can't stand up to prolonged, aggressive stunt riding; several reports of broken and snapped brakes.
Takeaway: If your child is just getting into stunt riding or wants one scooter that can do just about anything, experts say the Fuzion Pro X-3 is among the best choices. The aluminum deck is slightly concave and covered with grip tape, giving riders a solid platform for executing tricks like tail whips, slides and grinds. This Fuzion scooter comes equipped with 100mm urethane wheels — the standard size for most kids' kick scooters — but the frame can accommodate 110mm wheels (the bigger the wheels, the faster the scooter can go), and owners say they're easy to swap out with the included Allen wrench. The manufacturer doesn't suggest a minimum age for this scooter, and we saw reviews from parents who claimed their 5-year-olds enjoyed riding the Pro X-3. There's also a lot of room for growth, since the latest models have a weight capacity of 220 pounds as opposed to the previous 141-pound limit. Just keep in mind that, while it delivers a fairly sturdy ride, this scooter will require a bit of caution and proper maintenance to keep it up and running for the longer haul. It comes with a six-month warranty against defects.
One other thing worth noting: These scooters are very popular and frequently sell out at major retailers and even on the manufacturer's website. We called the company to confirm that they're still being manufactured (they are), and a rep told us that if you find stocks depleted, check back in a week or so, as new shipments arrive and disappear quickly.
Razor E100 Review
Price: $134
Buy it from Walmart
Best Electric Scooter for Kids
Pros:
Motor maxes out at a relatively safe 10 mph.
Large, air-filled front tire provides extra stability on bumpy terrain.
Relatively easy to assemble for most owners.
Choice of 7 colors.
Cons:
Battery takes at least 12 hours to charge.
Brakes aren't very powerful, some owners complain.
90-day warranty is relatively short.
Weight limit is fairly low, at just 120 lbs.; handlebars are not adjustable.
Takeaway: This Razor E100 electric scooter hits the sweet spot between safety and performance for young riders. The battery lasts for about 40 minutes (or more) of continuous use, and the 10 mph top speed is manageable for most kids. Having to kick the scooter up to 3 mph before the motor engages adds an extra layer of safety, reducing the risk of a jolt from sudden acceleration. On the downside, the motor doesn't have a speed regulator; it either goes all out at 10 mph or not at all, and the hand brake only works well if your child remembers to release the throttle before using it. The air-filled 200mm front tire on this electric scooter — twice the size of the wheels you'll find on a regular kick scooter — is fat enough to provide a smooth ride and stability and traction on dirt trails. But some parents point out that the 145mm rear tire, which is made of urethane, tends to slip on looser surfaces.
Perfectly kid-sized for smaller riders, this scooter is recommended for 8-year-olds and above. But, while reviewers at Two Wheeling Tots deem it "the most solid place to start" for a child who wants to get in on the electric scooter action, parents should be mindful that the Razor E100's service life may end sooner than anticipated. With non-adjustable handlebars that extend only 22 inches from the deck, and a fairly low weight capacity, several users suggest that 12 years and 5 feet might be the most realistic caps for riders. If in doubt, it might make sense to upgrade to the Razor E200; this kids' electric scooter can support up to 154 pounds and has 25-inch handlebars.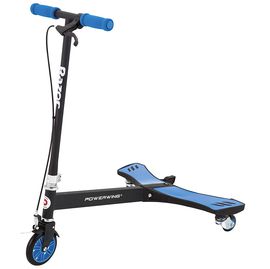 BONUS: Best Carving Scooter for Kids
Pros:
Steel frame is solid and durable, according to owner feedback.
Large, urethane front wheel rolls easily over obstacles; smaller, dual-inclined rear caster wheels allow easy 360-degree turns.
Removable rear stability bars for beginning riders.
Hand brake may be easier for some riders to operate than typical scooter foot brakes.
Relatively easy to assemble.
Great way to get kids to exercise, parents say.
Cons:
Not sturdy enough for some older kids and adults; maximum weight capacity is 143 lbs.
Adjustable-height handlebars may still be too short for taller riders.
Relatively short 180-day warranty.
Takeaway: Kids tend to either love this quirky scooter or hate it, according to parents. Yet, for the most part, reviews are full of enthusiastic praise from purchasers who say the Razor PowerWing is a great alternative to plain old kick scooters. As opposed to typical scooters, with their two wheels, this carving scooter has a Y-shaped foot deck, with two 64mm wheels in back and a 125mm urethane wheel in the front. Instead of kicking, riders shift their weight back and forth to propel the scooter along. While kids can't use this kind of scooter on inclines or for standard tricks, the fun lies in its drifting ability and the ease with which it can nail 360-degree spinouts. Parents say it keeps their kids occupied for hours and add that it's a great way to keep them active, especially when there's not a lot of sidewalk space — we read several reviews that claimed kids were satisfied tooling around right in their own driveways.
Just keep in mind that, with a maximum weight limit of 143 pounds, this Razor caster scooter definitely isn't substantial enough for adults to ride. Some owners also complain that the handlebar is too short for big kids and it doesn't fold for storage. (The pricier Razor PowerWing DLX model does collapse for easier portability, and it's designed for taller riders, with adjustable handlebars that extend an inch farther than the standard version.) The Razor PowerWing is designed for kids 6 years old and up. It's available in two colors.
Razor RDS Dirt Scooter Review
BONUS: Best Off-Road Scooter for Kids
Pros:
Large, air-filled, thick-treaded tires offer extra stability and traction on-road or off.
Steel fork and sturdy aluminum frame can withstand a lot of abuse, owners say.
Y-style handlebars for added strength and control.
Despite relatively heavy weight (11.5 lbs.), can even pull off some tricks.
Cons:
Some owners report trouble keeping tires inflated.
Weight may be too much for small kids.
180-day warranty is fairly short.
Takeaway: The Razor RDS off-road scooter has fat 200mm air-filled tires that can handle dirt, grass, sand and other off-road obstacles and extreme environments that would be dangerous on a typical kick scooter. Even if you're not into off-roading, those tires can offer extra stability and traction for more timid riders in a city environment. Owners say the rear fender brake is durable, and grip tape on the scooter deck makes it easier to keep feet firmly in place while attempting stunts. This scooter is recommended for ages 10 and up, with a maximum weight limit of 220 pounds; but, because it doesn't have adjustable-height handlebars (fixed handlebars are better suited for rough riding), its usefulness is limited for taller teens and adults. Also, it doesn't fold for transit and storage. The RDS is available in just two colors: red or black.