Best Cheap Space Heaters
This buying guide recommends the best inexpensive electric space heaters on the market.
What We Considered
For the most part, online space heater reviews come from users posting on retail sites such as Amazon, Best Buy, Home Depot, Target, and Walmart. We also considered the outcomes of product testing by Consumer Reports and The Sweethome. Some of our picks appear in roundups of the best space heaters by TopTenReviews and Digital Trends, which also test products they review, although it's not clear whether their recommendations in this category reflect hands-on experience.  
Space heater ratings are no doubt influenced by users' success in matching their heating needs with the right space heater. Inexpensive electric heaters are intended for targeted warmth in small, enclosed areas. Consumers who try to use even the best small space heater in a large, open space will wind up disappointed and cold. When used as intended, our top picks provide a much-appreciated temperature boost. In space heater reviews, many users express pleasant surprise at the heat output of these models given their compact size. Some warn that it can take a little while to heat an entire room.
If your goal is to control utility costs by turning down the central heating and using a space heater to warm only the room you're occupying, it helps to have a portable space heater you can carry from room to room. Some expensive space heaters that give off a lot of heat are quite large and basically stationary. Our low-cost picks are small and designed to be portable. Features such as a handle and a long power cord increase convenience and ease of use. (The nonprofit advocacy group Electrical Safety Foundation International warns consumers not to use an extension cord with a space heater.)
Electric space heaters require little maintenance, save for a light dusting from time to time. However, they are not designed to be repaired. There really aren't any disposable or replaceable parts, so when something breaks, you just have to buy a new heater. The models we researched do come with one-, three-, or five-year limited warranties. Reviews indicate that the best heaters provide consumers at least a couple of years of service -- four seems to be realistic with fairly heavy use -- although we did read scattered reports stating that some models have given out within weeks.
Our Top Pick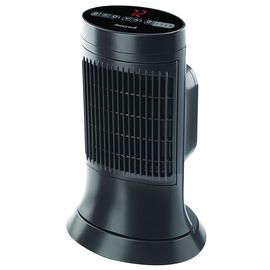 Other Products We Reviewed
Features Comparison
2 power settings, digital thermostat
Overheat and tip-over protection, cool-touch housing and handle
Tip-over protection, cool-touch case
2 power settings, adjustable thermostat
2 power settings, adjustable thermostat, anti-freeze setting
Overheat protection, power indicator light
Overheat and tip-over protection, cool-touch exterior
Overheat and tip-over protection