Planning to buy new tires? Choosing quality tires means more than just finding the best tire prices online. Experts say choosing the right all-season tire depends on the kind of automobile you own, how aggressively you drive, and the climate where you live:
General all-season tires are fairly cheap. You'll spend about $65 each to buy tires that will get you through the daily commute in all weather.
Specialty tires cost more. You'll spend anywhere from $100 to $150 or more to buy tires for winter driving or sports cars.
Tire packages, which bundle 2 or 4 tires plus worthwhile extras like a road hazard warranty, can sometimes be more cost-effective than buying tires individually.
Prices for new tires can vary widely online, so if you see a good deal don't hesitate.
If you drive a full-size pickup or other large vehicle, see our review of the best truck tires and ATV tires for more recommendations. Our review of winter tires provides picks for drivers in regions that are prone to cold weather, snow, and ice.
See full Buying Guide
General Tire AltiMAX RT43 Review
Pros:
Good performance under all driving conditions.
Better-than-average snow traction in tests.
Strong performance in comparative Tire Rack testing; among the top in its category in other independent tests.
Cons:
Driver reviews, while positive, are a bit more mixed than with other models.
Ride is a little noisy, some drivers complain.
Wet braking could be better, but about typical for an all-season.
Takeaway: You can find all-season tires that might last longer, but according to professional tests and owner reviews of cheap tires online you'll still get your money's worth with these General Altimax tires. The ride is comfortable, though a touch noisy at times, and performance is excellent when compared to other options in this price range; in Tire Rack testing they handled better than more expensive models. Snow traction — an issue with most all-season tires — is also better than the norm. Experts like this tire a lot, with some saying the General Altimax RT3 definitely gives our top-runner, the Michelin Defender T+H, a run for its money, especially since a full set comes in at a fraction of the cost. Treadwear is warrantied to 75,000 miles, but several owners say they got only about 50,000 to 60,000 miles before the tires reached their limit. Still, most insist that they're very satisfied with the ride and handling of these all-seasons.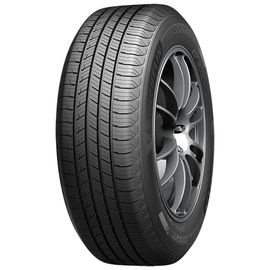 Michelin Defender T+H Review
Pros:
Long treadwear warranty and even better tread life, according to independent tests.
A top all-season tire recommendation by Consumer Reports.
Responsive handling.
Relatively low road noise.
Named best in category by Tire Rack customers.
Cons:
Doesn't test as well as some other all-season tires on wet roads.
Less comfortable ride than some tires.
Only so-so fuel economy.
Takeaway: It's not the cheapest all-season tire, but if you need to buy tires, the Michelin Defender T+H is one of the best for the money, according to both consumer product experts and tire professionals. Its 80,000-mile treadwear warranty is one of the longest around, and long-term road tests suggest that these tires can go even longer before needing to be replaced. While some experts have some quibbles with this Michelin's performance when braking on wet roads, owner comments don't indicate that this is an issue in real-world driving. It's an exceptionally quiet tire and provides a ride that has been described as "athletic" by Tire Rack testers, but at the expense of some ride comfort compared to other tires in its class.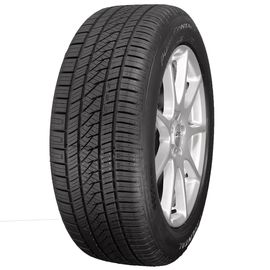 Continental PureContact LS Review
Pros:
Outstanding tread life, according to owners.
Very good handling in wintry conditions.
Low road noise.
Cons:
Won't satisfy drivers looking for a true performance tire.
Pricier than standard all-season tires.
Takeaway: A grand touring tire splits the difference between a standard touring tire and a performance tire, and reviewers say the Continental PureContact LS is the best tire for those who want an upgraded driving experience. This tire carries a V speed rating, meaning it can travel as fast as 149 mph, and professional testers generally find no shortcomings in key criteria under different driving conditions. The PureContact LS performs above average (for an all-season) in ice or snow, and durability is top-notch, too — it carries a 75,000-mile treadwear warranty but was able to go 90,0000 miles before needing replacement in one long-term test. Because this is a newer model, owner reviews are fairly limited, but what feedback exists is mostly good, and the model it replaces earned positive marks from both experts and owners. While diehard driving enthusiasts may not get the thrill that a true performance tire delivers, less aggressive daily drivers should be quite pleased with this luxury tire's capabilities. Continental tires also come with upgraded service perks, like 3 years of complimentary flat-tire roadside assistance and replacements should tires be damaged on the road within the first 12 months.
BFGoodrich g-Force COMP-2 A/S Review
Pros:
Outstanding handling under all road conditions, according to professional testers.
One of the better performers in this class on snow and ice.
Strong reviews from experts and owners alike.
Cons:
Not great for fuel economy.
More road noise than some other tires in this category.
Takeaway: If you're looking for cheaper specialty tires, experts and drivers say you won't sacrifice too much by opting for the BFGoodrich g-Force COMP-2 A/S. Like other quality  performance tires, the Goodrich carries a W (168 mph) or Y (186 mph) speed rating depending on size, and handling is strong and controlled under all weather conditions, including wet and winter driving. The 45,000-mile treadwear warranty is typical for this class, and reviews indicate it should easily meet or even beat that mark. Testers at Tire Rack say "some noticeable tread growl is always present," but, as long as you don't mind road noise that's a little louder than the norm, the bang that's offered for the buck — and the balance of responsiveness and grip — is pretty impressive.
Michelin Pilot Sport A/S 3+ Review
Pros:
Solid traction, handling, and braking under all conditions.
Strong winter performance.
Best in its class in Tire Rack track tests.
Good tread life.
Exceptionally positive owner reviews.
Cons:
Ride is too firm for some drivers.
Most costly tire we recommend.
Fuel efficiency is not the best.
Takeaway: The Michelin Pilot Sport A/S 3+ is the most expensive model we reviewed, but it's the best tire a performance-oriented driver could need, including W and Y speed ratings in different sizes. In professional closed-track tests, handling and braking is at the top of the charts on dry pavement and nearly as good in wet and wintry conditions. And this tire should have no issues meeting or even exceeding its 45,000-mile tread life warranty, according to long-term tests. Drivers adore the Pilot Sport A/S 3+, rating it tops in Tire Rack's large consumer survey, with professional testers there saying it "sets the bar for performance from an all-season tire." In fact, experts across the board struggle to find anything bad about these quality tires.
Pros:
Very low price, especially for a performance tire.
Good handling in all weather conditions.
Designed for low rolling resistance and better gas mileage.
Cons:
Noise and ride comfort is middling.
Limited driver feedback.
Takeaway: Professional reviewers of cheap tires online say the Atlas Force HP performs well, especially considering its low price. These are high performance tires with a V speed rating, meaning they have a top limit of 149 mph and are designed for aggressive driving. The tires are responsive under wet and dry conditions, slightly less so in wintry weather but still decent. The 40,000-mile treadwear warranty is standard for performance all-season tires, and long-term road testing indicates that these Atlas tires should exceed that. The biggest drawback is that owner reviews for this tire are relatively few, as is the case with many cheap all-season tires, but expert assessments suggest most users would not be disappointed with this deal.