Best Cheap Car Tires
These are the best cheap tires for everyday driving, from the likes of Michelin and Goodyear, based on our careful reading of expert and user reviews.
What We Considered
Tires look pretty much the same from the outside, regardless of brand, and it can be hard to tell one tire from another. Differences are hidden behind the rubber in the tires' construction and in the invisible compounds used to build them. Tread patterns and other external markers are unique to each model, as well, but most drivers would be hard-pressed to distinguish even these features. Marketing for nearly every all-season tire lays claim to the same performance qualities: tight grip on wet, dry, and light to moderately snowy surfaces; excellent water evacuation to resist hydroplaning; responsive and confident handling; and quiet riding comfort.  
The starting prices generally reflect the smallest tire size for each line. Choosing the right tire means first and foremost making sure you get the proper fit. Fortunately, that's as simple as looking at the tires you have currently. All tires carry a size code on their sidewall that indicates the three primary factors by which they are rated. For example, if a tire is stamped 175/70R13, the first number indicates the width in millimeters across the widest part of the tire. The second number represents the ratio of sidewall height to tire width, while R denotes radial construction (which rules the road these days). The final number is the wheel's diameter in inches. Optionally, some tires may carry prefix before the size, either P for tires intended for passenger car use, or LT, indicating that they are designed for light trucks. Manufacturers specify the recommended tire size for each vehicle on a printed decal located on the doorframe on the driver's side. You can also upsize tires (for better looks or performance) or downsize them (for cost savings), but only within strict limits. ThoughtCo.com has more information, including the important considerations to ensure that upsized or downsized tires work properly with your vehicle.
How well a tire grips the road is largely a function of its tread design and materials. Elevation and climate affect a tire's life expectancy, as do the speed rating, individual driving style (do you corner aggressively or take it slow and steady?), and maintenance (are those tires properly inflated and rotated/aligned on schedule?). Regardless, drivers rightly expect tires to last for thousands and thousands of trouble-free miles. Manufacturers provide a limited treadwear warranty for each of their tires, which is a rough estimate of how many miles a tire can roll under optimal conditions before the tread wears down. It's worth paying attention to the tire's estimated tread life, because a slightly pricier model could yield savings by lasting longer than the cheaper alternative. Keep in mind also that while replacements may be offered (on a pro-rated basis) for tires that don't meet the thresholds specified, collecting on these warranties is often a tricky business: Most manufacturers specify that the tread must have worn down to 2/32 of an inch prior to reaching the warrantied mileage, and the driver must prove the tires have been maintained according to manufacturer guidelines.
A tire's rolling resistance influences gas mileage. All tires create friction where the tire tread meets the road surface, largely based on how large the contact area is, the tread design, and the tire materials. As a result, a vehicle must expend a certain amount of energy to overcome this friction as the car travels, affecting fuel economy. Many hybrids and some sedans come equipped with special low rolling resistance tires, and manufacturers are now making a point of designing tires to increase mileage per gallon. Some testers assess tires' fuel efficiency by measuring fuel usage over a test period using the same vehicle outfitted with different tires on identical test courses. Others, such as Consumer Reports, measure it using test equipment, such as a dynamometer.
General Tire AltiMAX RT43 Review
You can find all-season tires that might be longer wearing, but according to professional tests and owner reviews you'll still get your money's worth out of these General Altimax tires. The ride is comfortable, though a touch noisy at times, and performance is excellent when compared to other options in this price range; in Tire Rack testing they handled better than more expensive models. Snow traction — an issue with most all-season tires — is also better than the norm. Experts like this tire a lot, with some saying the General Altimax RT3 definitely gives our top-runner, the Michelin Defender T+H, a run for its money, especially since a full set comes in at a fraction of the cost. Treadwear is warrantied to 75,000 miles, but several owners say they got only about 50,000 to 60,000 miles before the tires reached their limit. Still, most insist that they're very satisfied with the ride and handling of these all-seasons.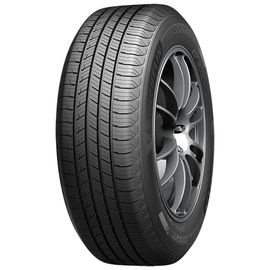 Michelin Defender T+H Review
It's not the cheapest all-season tire you can buy, but the Michelin Defender T+H is one of the best for the money, according to both consumer product experts and tire professionals. Its 80,000-mile treadwear warranty is one of the longest around, and long-term road tests suggest that these tires can go even longer before needing to be replaced. While some experts have some quibbles with this Michelin's performance when braking on wet roads, owner comments don't indicate that this is an issue in real-world driving. It's an exceptionally quiet tire and provides a ride that has been described as "athletic" by Tire Rack testers, but at the expense of some ride comfort compared to other tires in its class.
Long treadwear warranty and even better tread life, according to independent tests.

A top all-season tire recommendation by Consumer Reports.

Relatively low road noise.

Named best in category by Tire Rack customers.
Doesn't test as well as some other all-season tires on wet roads.

Less comfortable ride than some tires.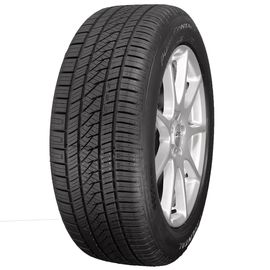 Continental PureContact LS Review
A grand touring tire splits the difference between a standard touring tire and a performance tire, and reviewers say these Continental PureContact LS grand touring all-season tires are an excellent option for those who want an upgraded driving experience. This tire carries a V speed rating, meaning it can travel as fast as 149 mph, and professional testers generally find no shortcomings in key criteria under different driving conditions. The PureContact LS performs above average (for an all-season) in ice or snow, and durability is top-notch, too — it carries a 75,000-mile treadwear warranty but was able to go 90,0000 miles before needing replacement in one long-term test. Because this is a newer model, owner reviews are fairly limited, but what feedback exists is mostly good, and the model it replaces earned positive marks from both experts and owners. While diehard driving enthusiasts may not get the thrill that a true performance tire delivers, less aggressive daily drivers should be quite pleased with this luxury tire's capabilities. Continental tires also come with upgraded service perks, like 3 years of complimentary flat-tire roadside assistance and replacements should tires be damaged on the road within the first 12 months.
Outstanding tread life, according to owners.

Very good handling in wintry conditions.
Won't satisfy drivers looking for a true performance tire.

Pricier than standard all-season tires.
BFGoodrich g-Force COMP-2 A/S Review
If you're looking for an ultra-high performance all-season tire and the price tag on our top performance tire, the Michelin Pilot Sport A/S 3+, is a little hard to swallow, experts and drivers say you won't sacrifice too much by opting instead for the BFGoodrich g-Force COMP-2 A/S. Like other performance tires, the Goodrich carries a W (168 mph) or Y (186 mph) speed rating depending on size, and handling is strong and controlled under all weather conditions, including wet and winter driving. The 45,000-mile treadwear warranty is typical for this class, and reviews indicate it should easily meet or even beat that mark. Testers at Tire Rack say "some noticeable tread growl is always present," but, as long as you don't mind road noise that's a little louder than the norm, the bang that's offered for the buck — and the balance of responsiveness and grip — is pretty impressive.
Outstanding handling under all road conditions, according to professional testers.

One of the better performers in this class on snow and ice.

Strong reviews from experts and owners alike.
Not great for fuel economy.

More road noise than some other tires in this category.
Michelin Pilot Sport A/S 3+ Review
The Michelin Pilot Sport A/S 3+ is the most expensive tire we reviewed, but for the price it delivers just about everything a performance-oriented driver demands, reviewers say —including W and Y speed ratings in its different sizes. In professional closed-track tests, handling and braking is at the top of the charts on dry pavement and nearly as good in wet and wintry conditions. And this tire should have no issues meeting or even exceeding its 45,000-mile tread life warranty, according to long-term tests. Drivers adore the Pilot Sport A/S 3+, rating it tops in Tire Rack's large consumer survey, with professional testers there saying it "sets the bar for performance from an all-season tire." In fact, experts across the board struggle to find anything bad to say to balance out the accolades bestowed upon these Michelin tires.
Solid traction, handling, and braking under all conditions.

Strong winter performance.

Best in its class in Tire Rack track tests.

Exceptionally positive owner reviews.
Ride is too firm for some drivers.

Most costly tire we recommend.

Fuel efficiency is not the best.
Professional reviewers say the Atlas Force HP performs well for a tire in this speed class, especially considering its low price. These are high performance tires with a V speed rating, meaning they have a top limit of 149 mph and are designed for aggressive driving. The tires are responsive under wet and dry conditions, slightly less so in wintry weather but still decent. The 40,000-mile treadwear warranty is standard for performance all-season tires, and long-term road testing indicates that these Atlas tires should exceed that. The biggest drawback is that owner reviews for this tire are relatively few, as is the case with many cheap all-season tires, but expert assessments suggest most users would not be disappointed with this deal.
Very low price, especially for a performance tire.

Good handling in all weather conditions.

Designed for low rolling resistance and better gas mileage.
Noise and ride comfort is middling.
Other Products We Reviewed