It's been more than two decades since George Foreman began touting his Lean Mean Grilling Machine on late-night TV. Since then, indoor electric grills, griddles, and panini presses have found a place in many American kitchens. They're much cleaner and easier to set up and use than charcoal and gas grills, with nonstick cooking surfaces and dishwasher-safe parts. Although you don't get the full experience or flavor of cooking and smoking foods over an open flame, the best electric grills do get hot enough to sear foods and lock in flavor.
See full Buying Guide
Our Top Pick
Hamilton Beach Searing Grill 25360 Review
Hamilton Beach Searing Grill 25360 Review
Pros:
User say it's truly "smokeless," as advertised.
Removable cooking plates, lid, and drip tray are dishwasher-safe.
Maximum temperature of 450 degrees Fahrenheit is hot enough to sear food.
Cons:
Large parts don't fit in smaller dishwashers.
Preheating can take up to 10 minutes, some reviewers note.
Takeaway: It was no contest for the honor of "best" in this category: The 120-square-inch Hamilton Beach Searing Grill is the highest-rated indoor grill we evaluated, based on professional tests and consumer reviews. Owners admire how well it sears meat, and they say it cooks delicate items like fish equally well at lower heat settings. Many reviewers have posted photos on Amazon attesting to the realistic grill marks it leaves on their food. The removable lid gets a lot of praise for how well it helps control splatter. The nearly identical model 25361 (est. price: $70) has a small window that some users say is hard to clean.
George Foreman GRP472P Review
Pros:
Removable, dishwasher-safe plates and drip tray.
Sloped design drains fat from foods.
Hinged lid accommodates thicker sandwiches.
Cons:
Less usable cooking surface than advertised, reviewers complain.
Some say it takes too long to preheat.
Takeaway: George Foreman grills have a lot of fans, and this one is no exception. It's a contact grill with a floating hinge, which means it can accommodate thicker sandwiches and cuts of meat without smashing them flat. The one consistent complaint we saw in reviews is that the manufacturer overstates the capacity of this 80-square-inch model (and virtually all Foreman grills). It may be billed as a "five-serving" grill, but users say three servings is more realistic. Otherwise owners give the grill rave reviews for making awesome paninis, grilled cheese, and other hot sandwiches. They like the brand's patented slope design, which reduces fat retention.
Hamilton Beach 3-in-1 MultiGrill 25600 Review
Pros:
Versatile; can be used as a grill, griddle, or sandwich press.
Cooks food quickly and evenly, users say.
Lid, drip tray, and cooking plates are dishwasher-safe.
Cons:
No on/off switch; you have to plug it in and unplug it.
Lid is not hinged for different food thicknesses.
Some users would have liked to see a cooking guide in the user's manual.
Takeaway: This Hamilton Beach electric grill gets very high marks from owners. With the hinged lid open all the way and the plates side by side, it can be used as a grill/griddle for breakfast; closed, it can grill meat and sandwiches. Each nonstick cooking plate is 50 square inches, enough for two servings. Owners also like that this indoor electric grill has a "kickstand" to drain fat away when cooking bacon, although the drip pan is rather shallow, some say, and may overflow. Users marvel that the grill cooks bacon evenly in about half the time of traditional pan-frying.
Presto Cool Touch Electric Indoor Grill 09020 Review
Pros:
160-square-inch cooking surface is big enough to cook for a family.
Food releases easily with no sticking, users say.
Includes a tool for cleaning the grill.
Entire unit can be placed in the dishwasher for easy cleanup.
Cons:
No lid; food can splatter at high heat.
Not designed for cooking bone-in poultry.
Takeaway: There is no end to owners' love for the Presto Cool Touch Electric Indoor Grill. They say it cooks a variety of foods — from thick steaks to veggies — evenly and with perfect grill marks. The nonstick grill plate cleans up very easily, owners say, and it's dishwasher-safe (after the removable power cord is detached). Based on reviews, we estimate the cooking surface to be big enough for about three to four servings, depending on size. There is no lid; it's just a flat cooking surface. But most users say splattering is not really an issue except with very fatty meats, or if they overdo it when oiling the grill before cooking.
George Foreman GRP1060B Review
Pros:
Cooking plates and drip tray are dishwasher-safe.
Users say food cooks quickly and evenly.
Grill preheats quickly; indicator light lets you know when it's ready.
Cons:
Not suitable for bone-in cuts of meat or larger hot dogs.
No temperature control; cooks at one temperature.
Takeaway: Some people complain that the company overestimates the usable cooking surface area on this George Foreman grill. With only 60 square inches, the "four-serving" grill is best used to cook for one or two people, not four. Still, it's big enough to cook a couple of sandwiches, burgers, or boneless chicken breasts, reviewers say. The ridged cooking plates and hinged lid make it a great panini press, although some owners say it "squishes" thicker sandwiches too much. As with other Foreman grills, we read a number of comments from consumers praising the sloped cooking surface, which does a good job of draining fat and juices.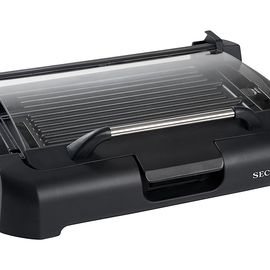 Secura Reversible Grill/Griddle GR-1503XL Review
Pros:
Very large cooking surface (180 square inches).
Can be used as a grill or griddle.
Cooking plate is dishwasher-safe.
Glass lid helps control grease splatter.
Cons:
Relatively high price.
Handles can be hard to clean, reviewers say.
Lid is difficult for some users to attach and remove.
Drip tray, base, and included scraper must be washed by hand.
Takeaway: Owners appreciate the versatility of this 1,700-watt appliance. With a reversible cooking plate, it can be used as a grill or a griddle, and reviewers say both sides work equally well. The nonstick cooking plate heats evenly and imparts attractive grill marks, just like a full-size grill. Some users say it smokes more than they expected when cooking meat, however. We also saw mixed reviews for the glass lid, including complaints that it seems flimsy and there is no information in the owner's manual about how it should be cleaned.
George Foreman GGR50B Indoor/Outdoor Electric Grill Review
Pros:
240-square-inch cooking surface is large enough to cook for a family.
Can be used with an included floor stand or as a tabletop grill.
Users say it cooks very evenly.
Cons:
Some reports of the nonstick coating peeling after a few uses.
All components must be hand-washed.
No built-in thermometer to monitor cooking temperature.
Takeaway: Owners say this George Foreman indoor/outdoor electric grill offers a "real" grilling experience without the mess of a gas or charcoal model. There is a newer version, the GFO240S, but a couple of consumers lament that the grill plate is not removable, the lid is not vented, and there's nowhere to hang the lid when using the grill atop the pedestal stand. They recommend snapping up the best-selling GGR50B while it's still available on Amazon. The domed, vented lid allows air to circulate for even cooking, owners say, and the grill gets hot enough to sear food. On the downside, a number of consumers say the temperature-control dial makes it difficult to find a precise temperature. Others say the sloped cooking surface drains fat and grease a little too well, leaving some foods dry and overcooked. Also, be aware that this is a pretty good size grill: 38 inches tall to the top of the lid when on the stand, and 21 inches wide.
Cuisinart Griddler Deluxe GR-150 Review
Pros:
6 cooking modes.
240-square-inch cooking surface, very large for an electric grill.
Very easy to use and clean, owners say, with dishwasher-safe plates and accessories.
Can sear meat for up to 2 minutes.
Cons:
Relatively high price for an electric grill.
Complaints of inconsistent temperature between the top and bottom.
Some users say it smokes too much to be practical indoors.
Takeaway: The versatile Cuisinart Griddler Deluxe is a longtime favorite of professional testers and consumers alike, but it's also a very expensive electric grill and griddle. Users say it can accommodate thicker foods like paninis, salmon steaks, or chicken breasts with ease, thanks to the sturdy hinged lid and handle. They also praise the top-melt function for making cheese sandwiches. The nonstick cooking surface is plenty big enough for a family or a crowd, although a handful of owners say the coating peeled after just a few uses. Another thing to note: With a fairly large footprint and hefty construction, this electric grill takes up more counter space than others.
Pros:
Can reach 600 degrees Fahrenheit, as hot as some gas grills.
Brand has a reputation for excellent quality and customer service.
Users report there's very little smoke when cooking.
Cons:
Takes up to 20 minutes to preheat.
All parts must be hand-washed.
Takeaway: The Weber Q 1400 Electric Grill is designed expressly for outdoor use, and like other Weber grills, this model gets very positive reviews. It's one of the few electric grills of any size or price that can sear as well as a flame, and most people say it cooks a variety of foods evenly, although some complain that the food doesn't come out quite as flavorful as it would on a traditional grill. The 188-square-inch cooking surface is big enough to cook for a family of four, most owners say. If you need a larger grill, the nearly identical Weber Q 2400 has 280 square inches of usable cooking space. Customer service is available seven days a week (7 a.m. to 10 p.m. CT), something few other brands offer.