About one-third of men in the U.S. who shave use an electric razor, and they're a perennial favorite for Father's Day and holiday gifts. As an everyday grooming staple, these razors offer convenience and, ideally, a close, comfortable shave. Not surprisingly, the models that earn the highest accolades from professional reviewers are often the most expensive, sometimes costing well above $200. The market is also awash with dozens of lesser quality models from little-known brands that bear low price tags but frequently get equally low ratings. Cheapism.com scoured major retail sites and consulted professional sources in order to identify the best men's electric shavers for under $100, zeroing in on a broad selection of razors from established brand names that deliver sought-after features and solid, reliable performance without cutting into your savings.
See full Buying Guide
Our Top Pick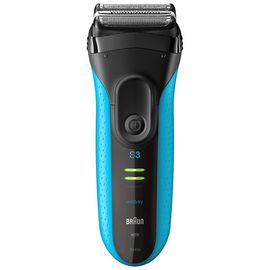 Braun Series 3 ProSkin 3040s Review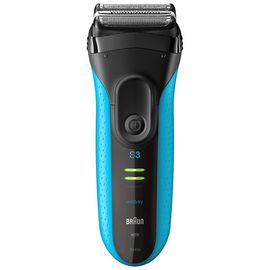 Braun Series 3 ProSkin 3040s Review
Pros:
Dual layers of blade protection make this a good choice for sensitive skin.
2 flexible foils with a trimmer blade in the middle to cut both long and short hairs.
Can be used for wet or dry shaves.
Charges fully in less than 2 hours; 5-minute quick-charge option.
Easy-to-read battery-life indicator.
Comes with a guard and cleaning brush.
Cons:
Users say it leaves stubble behind on thick or tough beards.
Some complaints that it doesn't shave as closely on dry skin as it does on wet.
A few users wish the head could be taken apart for more thorough cleaning.
Several say it doesn't stack up to other Braun models they've owned.
Takeaway: If you can't afford one of Braun's flagship Series 7 models, the Series 3 ProSkin 3040s might be the best substitute you can buy. Reviewers say this shaver is incredibly easy to use and doesn't irritate the skin. Clad in studded blue rubber, the Series 3 ProSkin is also easy to grasp with wet hands, and it can be fully immersed for easy cleaning. Although it may take a couple of passes to remove stubborn hair, this foil shaver is a top performer for the price.
Panasonic Arc4 ES-LA63-S Review
Pros:
4 high-speed floating blades, including a lifting foil, deliver an exceptionally close shave -- even on longer thicker hair -- according to reviews.
Both experts and consumers say this is a good choice for men with sensitive skin.
Charges fully in 1 hour, faster than most of the competition.
Shaves wet or dry and cleans under running water; special sonic-cleaning mode.
Large LCD display with a battery monitor, shave timer, and cleaning reminder.
Travel pouch and plastic cover for the head.
Cons:
Comparatively short 30-day refund policy.
Some users say the 4-foil head is too bulky.
Some complain of early demise, and others are disappointed by performance that doesn't seem significantly better than other models, like the Arc3.
Takeaway: The Panasonic Arc4 ES-LA63-S barely makes it under the Cheapism price limit, but satisfied owners say this men's electric shaver is worth the money. Earning an abundance of praise from experts, its powerful motor and four heads deliver a closeness that is said to rank on par with popular, and far pricier, premium Braun razors (yes, it's actually compared to the Series 7 and Series 9!). Another plus: This Panasonic model doesn't irritate sensitive skin like other foil razors can, reviewers say. On the downside, the larger head can make it a bit harder to handle on smaller faces. The trial period is also shorter than those offered by other brands, giving buyers less time to evaluate its performance and personal fit.
Remington HyperFlex Verso 5 Review
Pros:
Unique design fits comfortably in the palm of the hand.
Works for wet or dry shaving and comes with attachments for pre-shave brushing, cleansing, and exfoliation.
Snap-on mustache/beard trimmer, plus a built-in, pop-up detailer.
Incredibly flexible neck and floating rotary cutters make this a good choice for shaving the head, owners say.
4-hour charge time isn't super quick, but it's shorter than much of the competition.
Cons:
Struggles with tough hairs, according to some reviews.
Bulky shave head may not reach tight places.
A handful of users complain of durability issues and batteries that won't hold a charge.
Charging indicator shows only whether the battery is charged, not how much life remains.
Takeaway: With its attachable cleansing brushes, the Remington HyperFlex Verso 5 (XR1410) does double duty as an electric shaver and a skin-care accessory. It comes with three cleansing brushes: one for gentle daily cleaning, a firmer one for weekly exfoliating, and a pre-shave brush designed to soften a beard. Most owners love the added versatility these attachments provide and also praise the ergonomic handle, saying the rubber trim makes it easy to grip with wet hands. On the downside, some users report that the Remington lacks the power to handle rough beards, while others say the rotary shaving heads don't provide a close shave on the neck.
Remington F5 (PF7500) Review
Pros:
Foils on a pivoting head flex for closer contouring; pre-trimmer between the foils.
Can run for 60 minutes on a full charge (which takes 2 hours); 5-minute quick-charge option.
Can be used corded or cordless, unlike many other rechargeable models.
LED lights indicate when battery needs charging.
Users say it's quieter than other shavers they've owned.
Cons:
Doesn't shave as closely as some other models, according to reviews.
Made for dry shaving only, but can be rinsed under water for cleaning.
Pop-up trimmer is flimsy, owners gripe.
Some users with sensitive skin complain of irritation.
Takeaway: The Remington F5 PF7500 is the replacement for the discontinued F5-5800 (est. price: $37; buy it on Amazon), which got more positive reviews than nearly any other shaver under $100 that we found. Although the PF7500 hasn't yet accumulated the same critical mass of user feedback, consumers who have bought this Remington shaver praise it for the same reason as its predecessor: It provides a smooth, comfortable shave at a decent price. On the downside, we read some gripes from users who say this two-foil shaver doesn't cut quite as close as three-foil models they've owned in the past.
Philips Norelco 3100 (S3310/81) Review
Pros:
3 rotary heads flex in 4 directions for comfort and closeness.
Can be used corded or cordless, unlike many other rechargeable shavers.
Curved design is comfortable to hold, reviewers say.
Head pops open for rinsing.
Cons:
8-hour charge time is much longer than most competitors', and the 45-minute run time is only average.
Can't be used for wet shaving.
Struggles with tough beard hair, users say.
Takeaway: The Philips Norelco 3100 (SS3310/81) is a good budget electric shaver, according to reviews. Although it likely won't shave as closely as more expensive razors, users say it does a good job of cutting long and flat hairs, particularly on the neckline. Its chunky handle is easy to hold and the rotary shaving heads glide smoothly over the face, something not all dry shavers do well. It's also the only rotary shaver that was a top pick among the expert sources we consulted.