Unlike some other foods, tortilla chips seem to deliver rich rewards to frugal consumers. The current zeitgeist considers high-end, restaurant-style tortilla chips to be the best. But both our own taste tests and online reviews indicate that pricier specialty chips often crumble against the competition. When planning a shindig for family or friends, there's no reason to overspend on the snack portion of the menu.
See full Buying Guide
Our Top Pick
Trader Joe's Organic Blue Corn Tortilla Chips Review
Our Picks
Trader Joe's Organic Blue Corn Tortilla Chips Review
Cheapism's panel of chip testers chose Trader Joe's Organic Blue Corn Tortilla Chips ($3.29 for a 16-ounce bag) as their favorite overall selection -- quite a surprise for a number of reasons. This snack is organic, and organic or "natural" products did not fare well overall in the blind tasting. The chips are made from blue corn, an ingredient that puts off some consumers with its grainy texture and amplified sweetness. Meanwhile, other Trader Joe's tortilla chips have performed abysmally in our taste tests. The boutique grocer's organic white corn chips were deemed "boring" and finished at the bottom of the heap, and the conventional restaurant-style white corn chips were deemed "serviceable" but "starchy."
Trader Joe's Organic Blue Corn Tortilla Chips, however, are "flaky," "light," "great-tasting" morsels. According to the panel, they shine alone or as a method of transporting salsa to waiting mouths. Online reviews are few, limited to three comments at the site Trader Joe's Reviews and the odd blog post, but they track with our findings, helping solidify these as the best chips of the Trader Joe's bunch.
The cost of these blue corn chips comes to about 21 cents an ounce. This is slightly higher than the prices we paid for most of their competitors -- a majority ranged between 17 and 19 cents an ounce. Still, these were not the highest-priced chips on the list, and the unanimous support from our panel suggests they are a good value.
On the Border Café-Style Yellow Corn Tortilla Chips Review
On the Border Café-Style Yellow Corn Tortilla Chips ($2.98 for an 18-ounce bag) racked up positive reviews from our tasting panel for an "airy" consistency and a "flavorful," nicely salted taste profile. They edged out favorites such as Costco's Kirkland Signature Tortilla Strips to be named one of the best cheap tortilla chips.
According to online reviews, other consumers are similarly satisfied with On the Border Café-Style Yellow Corn Tortilla Chips. In 25 reviews on Amazon, 72 percent of users give them 5 stars, and one reviewer calls them the next best thing to fresh chips from a Mexican restaurant. That praise is echoed on the Walmart website, where more than 50 reviewers award the chips an average of 4.7 out of 5 stars. One of the most recent posts nominates these chips as the best consumers are going to find among store-bought options.
It's hard to say whether their success comes because of or in spite of their preparation. Some panelists seemed to appreciate the "flaky" and "brittle" nature of these fried tortilla snacks, while others say they have an "old oil taste" -- although they're not greasy.
In an era when baked chips reign and natural, non-GMO ingredients rule labels, these tortilla crisps eschew health-conscious trends in favor of flavor. That said, the product is proclaimed gluten-free and vegan, the oil non-hydrogenated, and the ingredients list preservative-free.
On the Border Café-Style Yellow Corn Tortilla Chips cost 18 cents an ounce, which is on the low end of average for the category. Sam's Club carries them in a bulk size, as well -- worth checking out if a party is on the calendar.
Santitas White Corn Tortilla Chips Review
Santitas White Corn Tortilla Chips ($2 for an 11-ounce bag) are available nationwide in both yellow and white corn varieties. The price is marked on the label, but be forewarned: We paid $2.99 before tax at a Pacific Northwest grocery store. With 11 ounces in each package, this works out to about 18 cents an ounce at the label price compared with 27 cents an ounce at the price we paid.
A previous tasting panel awarded this Frito-Lay product the gold star against 13 other chip brands. The panel of 11 volunteers enthusiastically commended the flavor, which was buoyed by a "nice salty balance" and a "medium crunch." This time around, the Santitas chips maintained a solid ranking; tasters called them "light" and "appealing." One panelist mentioned an "artificial oil flavor," but nearly all who tried these chips professed them a favorite.
On Amazon, reviewers praise this chip's crispness, freshness, and saltiness, adding that it manages just fine on its own, without a boost from salsa or another dip. Consumer product review sites, along with media outlets including Serious Eats, place Santitas at the top of their lists of best tortilla chips. Like our tasting panel, these reviews praise the lightness, crunch, and appealing corn flavor. The one complaint seems to be that the triangle-shaped chips aren't hardy enough to stand up to thick dips and toppings. As one of our panelists lamented, they're "not too sturdy."
Still, a combination of price and quality make Santitas Tortilla Chips a good value (even if, as one reviewer grumbles on Amazon, the amount you get for $2 has decreased over time). This brand is often half the cost of brown-bagged, restaurant-style chips and they won't overpower a tasty salsa.
Costco Kirkland Signature Tortilla Strips Review
Produced by Texas-based Mission Foods, Costco's Kirkland Signature Tortilla Strips ($3.59 for a 48-ounce bag) cost slightly more than 7 cents an ounce -- half as much as any other chip in our blind taste test.
They were a solid hit with an 11-member tasting panel in 2013, good enough for a top showing in that comparison of 14 chip varieties. Well-liked by a majority of tasters for their crispy texture and toothsome thickness, the chips were shunned by no one, even as a few reviewers decreed them a bit heavy on the salt. The unusual rectangular shape was a pleasing novelty to most testers, although several held steady in their support of the more common triangle shape.
The comments from this year's group of taste testers were similarly very positive, but this time around the Kirkland Signature chips were outranked by a couple of newcomers, falling just out of the top tier. Samplers appreciated the "pronounced salt," "golden-tan" coloring, and "good corn flavor" that the Costco chips delivered. Perhaps surprisingly, they far outranked Mission's own white corn tortilla chips.
Despite the product's wide availability at Costco locations throughout the U.S., reviews of Kirkland Signature Tortilla Strips are few and far between online. One blogger lauds the "earthy" texture and deep corn taste with the barest hint of lime. He concedes the advantages of dipping with a rectangle (long enough for that, ahem, unhygienic double dip) but also expresses a preference for the more traditional chip shape.
The only division in reviews concerns the amount of salt gracing these crisps. While acknowledging that this is not a low-sodium snack, most reviewers are fine with it, although some consider the amount of salt excessive. Overall, these are chips a host can feel good about serving.
Safeway O Organics Blue Corn Tortilla Chips With Flax Seed Review
O Organics Blue Corn Tortilla Chips With Flax Seed ($2.49 for a 10-ounce bag) are on the higher end of our price range, weighing in at about 25 cents an ounce -- not unexpected given that this is an organic product. O Organics is a Safeway house brand, and these blue corn tortilla chips can be purchased only at Safeway stores, but there are more than 2,000 locations nationwide.
These chips performed well in our taste test. They were the second-highest vote-getters in the blue corn category and tied with Costco's Kirkland Signature Tortilla Strips for fourth place out of 13 chips tested. Their score wasn't quite high enough to be among the best, but was high enough to label them a good chip.
Panelists' opinions about O Organics Blue Corn Tortilla Chips varied. Some bemoaned their lack of strong corn flavor and said the compact chips were more akin to crackers than other tortilla chips. Others liked the roasted taste and discernable seeds, calling the chips a "hearty" snack that would be "good for chili."
A past tasting panel was similarly torn about these chips. Some tasters said they "didn't enjoy the flavor" but noted that the chips were "not as thick as other organics." The amount of salt received a nod of approval, although some said the chips were "still bland" and groused about having to "chew more than normal."
If you want standard, mild tortilla chips to dunk in salsa, or ascribe to the philosophy "the thinner the better," O Organics Blue Corn Tortilla Chips With Flax Seed are not for you. But if you're open to robust chips with a more complex flavor and texture, these deserve a place in your shopping cart.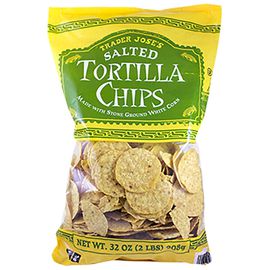 Trader Joe's Organic White Corn Tortilla Chips Review
Whole Foods 365 White Corn Restaurant-Style Tortilla Chips Review