Government data show that Americans spend nearly 90 percent of their time indoors, where the air quality is generally far worse than outside. A portable air purifier can make a dramatic difference for those plagued by asthma and allergies, pet dander and odors, fumes from tobacco smoke, or other irritants. Cheapism.com put budget air purifiers through the filter of expert and consumer reviews to identify the best small-room air purifiers under $100 and the best models for large spaces costing less than $250. All our top picks handily help rid the air of contaminants on the cheap, making the atmosphere in your home feel fresher and more breathable.
See full Buying Guide
Our Top Pick
GermGuardian AC4100 Review
GermGuardian AC4100 Review
Pros:
Sleek, modern design that sits flat or stands upright.
Tiny footprint and incredibly light weight (only about 5 pounds).
HEPA filter and charcoal and PCO pre-filter are attached for easier removal and cleaning; indicator light reminds users to change the filter.
Optional UV-C light targets germs, bacteria, viruses, and mold.
3 fan speeds to allow for less noise or faster cleaning.
Cons:
Scattered comments about weak performance and not-so-quiet operation.
Some reviewers say it's too hard to tell whether the UV-C light is on or off, although others appreciate that it's unobtrusive.
Short 1-year warranty.
Takeaway: Designed for areas under 100 square feet, the compact GermGuardian AC4100 3-in-1 air purifier impresses users with its overall effectiveness and multiple levels of cleaning power. Reviews point to a reduction in allergy and asthma symptoms when used in a bedroom, less dust in a closet that was full of it, and protection against germs floating around an office. Some find the fan a noisy distraction, but others shrug it off as background music -- a fitting description for a unit looks more like a stylish little speaker than an air cleaner.
GermGuardian AC4825 Review
Pros:
Covers up to 155 square feet, more than a typical small-room air purifier.
Slim tower profile with a small footprint and recessed handle for portability.
Multi-level filtration: pre-filter with activated carbon layer and true HEPA filter; filter-change indicator light.
Optional UV-C light zaps viruses and bacteria.
3 fan speeds.
Energy Star certified.
3-year warranty.
Cons:
Some reports of limited lifespan, chemical odor, and electrical malfunctions.
Some users complain that the blue UV-C light is too bright and interferes with sleep.
Takeaway: Priced comfortably below $100, the GermGuardian AC4825 easily claims its perch as the company's most popular model. Users with allergies say this air cleaner makes it possible to keep pets. Others commend its stand against cooking odors, mildew, and dust, and praise it for making nighttime breathing much easier. While some are dubious of the UV-C functionality, others swear by it, claiming it's saved them from catching many a viral bug. A few also grouse about the fan noise and minor snafus. But with an average of 4.3 stars from nearly 8,000 user reviews on Amazon, support for this model's value price and overall performance drowns out the critics.
Pros:
Exceptionally strong performer, according to experts and users, especially in reducing particulate levels and pet odors.
Multi-level filtration: carbon filter, true HEPA filter, and optional "PlasmaWave" stage; filter replacement indicator.
Electronic controls and digital display with auto dim for nighttime use and multi-setting timer (1, 4, and 8 hours).
Smart sensors adjust the fan speed to the current conditions, including odors and volatile organic compounds; light on the control panel changes color according to air quality.
4 fan speeds, including a sleep mode; can be manually controlled.
Runs very quietly; manufacturer claims 27.8 dB on the lowest setting.
Energy Star certified.
2-year warranty.
Cons:
Scattered complaints about limited effectiveness and durability.
Some disappointment with this updated model compared with the original.
Takeaway: Designed for large rooms up to 390 square feet, the Winix 5300-2 gets lots of love from users. Their reviews tell of eyes that have stopped watering, cooking smells that disappear, and lungs that no longer feel irritated. They say the difference in air quality is immediate and palpable and the amount of gunk that shows up on filters is horrifying. Reviews also laud the rich feature set, which comes at a very reasonable price. To be sure, there are some skeptics who argue that the performance of this updated model is not up to par, but the voices of the majority sing its praises.
Pros:
Praised by users and experts for its cube-like design, quiet operation, and responsiveness to irritants.
Multi-level filtration: washable pre-filter, carbon filter, true HEPA filter, and optional ionizer.
3 fan speeds; auto mode adjusts the speed to the current conditions and eco mode stops the fan when no pollution is detected.
Timer with 1-, 4-, and 8-hour settings.
Air-quality and filter-change indicators.
3-year warranty.
Cons:
Some users are wary of the ionizer function, even when switched off, given health concerns raised by experts.
Scattered reports of limited longevity, odd noises and odors, and negligible effectiveness.
Takeaway: A darling of expert testing sites, the Coway AP-1512HH scores for high-level performance, cost efficiency, portability, and overall value. User reviews tend to concur, crediting this air purifier with reducing headaches, runny noses, scratchy eyes, and asthma symptoms; clearing cooking odors and smoke from forest fires; and even helping pets suffering from allergies. A relative newcomer, the Coway "Mighty" has impressive cleaning ability for its compact size -- it can clear rooms up to 326 square feet -- and has already attracted a following.
Holmes HAP242-NUC-1 Review
Pros:
Very compact, desktop footprint; can be set flat or upright.
Multi-level filtration: proprietary filter with extra odor-absorbing capacity (carbon, baking soda, and zeolite) as well as a HEPA-type filter.
Users can upgrade to a variety of specialized Aer1 filters for more concentrated or customized cleaning.
3 fan speeds.
3-year warranty.
Cons:
Some users object to the ionizer feature, despite the option to turn it off.
Scattered claims about ineffective performance, assorted malfunctions, chemical odors, and unacceptably loud noise.
Takeaway: Holmes air purifiers have long earned praise for their excellent value, quickly clearing air of litter box and food odors, hairstyling and garage fumes, particles drifting out of air ducts, pollen, smoke, and more. The desktop Holmes HAP242-NUC-1 is no exception. It's intended for small rooms up to 109 square feet, and scores of users tell of placing it in bathrooms, bedrooms, and kitchens to great effect. It's also said to be a good air purifier for the office. The HEPA-type filter traps fewer pollutants than a "true" HEPA filter (99 percent of particles as small as 2 microns vs. 99.97 percent of particles as small as 0.3 microns), but users don't seem to notice the difference. Those wishing for greater cleaning power can easily switch to a higher-grade filter, which also needs replacing less frequently.
Hamilton Beach True Air 04386 Review
Pros:
Permanent HEPA-grade filter can be cleaned with a vacuum; no need to buy replacements.
Tabletop size; can be positioned vertically or horizontally.
Good for trapping allergens.
3 fan speeds to adjust for lower noise or faster performance.
Runs very quietly, according to many reviews.
Cons:
Only 1 level of filtration; no carbon filter to catch irritants from chemicals or grease.
Some users wish it had a "true" HEPA filter capable of trapping 99.97 percent of airborne irritants as small as 0.3 microns, instead of 99 percent of particles as small as 3 microns.
Scattered complaints about ineffective performance.
Short 1-year warranty.
Takeaway: A hefty majority of reviewers cheer the Hamilton Beach True Air 04386 for keeping the air breathable in homes with pets and residents with limited tolerance for pollen, mold spores, and dust mites. Some consider this the best air cleaner they've ever used, and many report that it rids the air of particulates almost noiselessly when set on low. Compact enough to move around the house or take on vacation, it can clear rooms up to 160 square feet. Most reviewers appreciate the easy-clean, money-saving design, with the permanent HEPA-grade filter, although a few feel cheated that it falls a tad short of the "true" HEPA standard.
Whirlpool Whispure WP500 Review
Pros:
Makes a noticeable difference in air quality almost immediately, reviewers say.
Air is refreshed 4.8 times an hour in rooms up to a very spacious 490 square feet.
HEPA filter and active carbon pre-filter for multi-level cleaning.
Indicator light to signal when the filters need replacing.
Electronic controls, including a timer and 8-hour sleep mode.
4 fan speeds; "turbo" setting.
Engineered to run quietly; Whispure models are known for hitting less than 50 dB on max speed.
Energy Star certified.
5-year warranty on the motor and 30-day money-back guarantee that it will prove quieter than comparable models.
Cons:
Only a handful of consumer reviews for this particular model; we relied on reviews of a previous version in making this pick.
Some disappointment with the build quality of that predecessor, and the 1-year standard warranty is short.
Takeaway: A previous model, the Whirlpool AP51030K, earned plaudits from users and experts alike for its features and performance. It scored points with testing sites for removing common irritants like dust, pollen, and smoke at both high and low speeds, as well as quiet operation. The new Whispure WP500P is said to be quieter still and is Energy Star certified. Based on the few available user reviews, we expect that it will at least meet the standards set by the older model, including removal of 99.97 percent of particulates as small as 0.3 microns, thanks to the HEPA filter.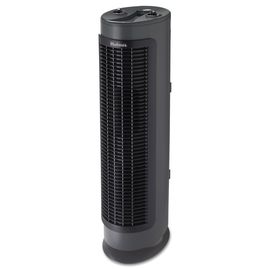 Pros:
Does an adequate job on dust, pet hair, low-level allergens, and other airborne particulates, some reviews say.
Covers a fairly large area (up to 180 square feet) for the price.
Washable pre-filter treated with baking soda, HEPA-type filter for multi-level cleaning, and optional ionizer; can also use a "true" HEPA filter or any proprietary Holmes filter.
3 speeds.
Filter-change indicator light.
3-year warranty.
Cons:
Large compared with many newer, tower-style models.
Numerous reports concerning strange noises, burning smells, and product failure straight out of the box or within days or weeks of purchase.
Runs very loudly and can get louder over time, according to users; one review on Amazon refers to it as "the old jalopy."
Although the ionizer can be turned off, it remains a controversial feature.
Takeaway: Unlike some of the competition, the Holmes HAP424-U HEPA-Type Tower seems to polarize reviewers. More than one-third of consumers reviewing this model on Amazon are critical, while the rest of the reviews on Amazon and other retail sites give it a fairly enthusiastic thumbs-up. Despite that support, a large number of complaints cite total product failure soon after purchase. For consumers who want a no-frills, small-room air purifier, there are products in the same price range that aren't quite so hit or miss.