Frugal consumers have clear expectations for dishwashers: This essential kitchen appliance should leave dishes clean and shiny without making much noise, running up the utility bill, or straining the household budget. Cheapism.com set out to accommodate these requests by fixing a price ceiling of $500 and scouring expert and user reviews to identify suitable models. Along the way we found a few other dishwashers that offer a little something special.
Editor's Note: Listed prices were accurate at the time of writing, but prices in this category are particularly fluid. Dishwashers are subject to frequent sales and we often see prices fluctuate from one week to the next, sometimes by more than $100. Waiting to make a purchase may sometimes be a wise choice.
See full Buying Guide
Our Top Pick
Our Picks
Pros:
Stainless steel tub; tiered upper rack.
Three wash arms.
Very quiet at 50 dBA.
High-temperature/high-pressure wash cycle, heated/high-temperature dry, and sanitizing option.
Full-length silverware basket.
10-year limited warranty on parts.
Cons:
Rack tines don't adjust.
Several reports about problems with electronic controls.
Takeaway: The Maytag MDB4949SD boasts many features found in mid-range dishwashers despite its budget price tag. There's no need for pre-rinsing with this machine, users crow, and dishes come out spanking clean.
Whirlpool WDT720PAD Review
Pros:
Very quiet at 51 dBA.
Adjustable upper rack with folding tines.
Special spray directed at the silverware basket.
Three wash arms.
Heated-dry and sanitizing options.
Cons:
Minor griping by users about ineffective drying.
Filter must be cleaned by hand.
Some reports about limited durability.
Takeaway: The flexible design of the Whirlpool WDT720PAD is its main selling point. Users wax on about the adjustable upper rack and the option of placing the silverware basket in the door or bottom rack. For the price, this model is feature-rich and quiet.
Samsung DW80J3020U Review
Pros:
Stainless steel tub; three spray arms.
Very quiet at 50 dBA.
Adjustable top rack and tines; removable plate support in bottom rack.
Two-piece silverware basket.
Leak sensor; hard-food disposer.
Half-load option and sanitizing options.
Cons:
Tines for glassware are too short, some users say.
Tall plates can block the soap dispenser, according to some owners.
Takeaway: Lots of loading flexibility endears the Samsung DW80J3020U to users, and thorough cleaning seals the deal. This model also offers other appreciated features, including a hard-food chopper and a half-load option.
Pros:
Three wash arms; triple filtration system to help remove food particles.
Heated-dry and sanitizing options.
Integrated top controls add sleekness and give this budget model a more "expensive" look.
Cons:
Oversize mugs don't fit in the top rack.
Holds smaller loads than the competition.
A bit louder than the competition.
Filter must be manually cleaned.
Takeaway: A good basic dishwasher, the Amana ADB1500AD comes with all the necessary features and delivers on performance. This model is best suited for smaller households, although the tall tub design partially compensates for the smaller size.(maximum 12 full place settings).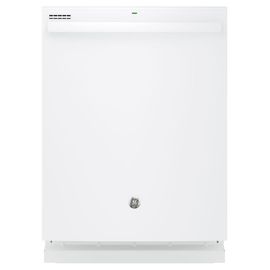 Pros:
Three wash arms plus silverware jets.
Customizable racks; the silverware basket sits in the rack or on the door.
Very quiet at 51 dBA.
Steam pre-wash; hard-food disposer.
Heated-dry, sanitizing, and half-load options.
Cons:
No short or quick wash.
Soap dispenser stops opening, some users report.
Some grousing about durability.
Takeaway: The GE GDT545PGJ cleans well, reviewers say. Practical features, plus a large load capacity (up to 16 full place settings) are worth a few extra points. Still, some reviewers who have replaced older GE models with this one say the quality has slipped a bit.
Frigidaire Gallery FGID2466Q Review
Pros:
Proprietary spray arm disburses water widely.
Adjustable upper rack; fold-down tines on both racks.
Hard-food disposer.
Heated dry option; super-fast 34-minute cycle.
In addition to the standard white, black, and stainless steel options, a black stainless exterior adds flair (and some extra cost).
Cons:
Durability problems with the motherboard, miscellaneous parts, and leaks, some reviewers report.
Takeaway: A wide variety of wash cycles, including china/crystal and rinse only, and adjustable racks are welcome features on the Frigidaire Gallery FGID2466Q. Users are satisfied with the results, but the need for service calls dims some of the enthusiasm.
Frigidaire FBD2400K Review
Pros:
Simple knob controls.
Hard-food disposer.
Right-sized for small family.
Cons:
Limited choice of cycles and wash options.
Comparatively loud at 62 dBA.
Cycles are extremely long if water isn't hot enough.
Some durability problems, according to users.
Takeaway: The Frigidaire FBD2400K is a very basic dishwasher, with a knob control rather than electronic panel, and none of the features found on the best models in the budget segment. The very low price may ease the sting of product weaknesses, including noise and concerns about reliability.
Pros:
Hard-food disposer.
Heated-dry and hot-start options.
Plate-warmer and rinse-only cycles.
Dial and touch-pad controls.
Cons:
Rack tines are very thin; arrangement makes loading a challenge.
Square silverware basket hogs space.
Heavily soiled dishes need pre-rinsing, users report.
Takeaway: Many reviewers say the center wash tower on the GE GSD3301K constrains loading options, as do tines on the upper rack. Many also complain about the noise level; at 62 dBA, it's louder than comparable budget models. Some also are disappointed with the end results.