Best Cheap Pillows
Get a good night's sleep for cheap. Just pick the fill -- cotton/poly, foam, latex, down alternative, or even buckwheat -- and firmness for your sleep style.
What We Considered
Given that every user has a different comfort preference, pillows can be just as hard to parse when it comes to making recommendations as mattresses. Because of that, in making our picks we also consider a wide variety of factors that reviewers touch on other than comfort or support, including heat retention, durability, pain relief, washability, and odors or smells.  
According to reports, an overwhelming majority of sleepers tend to favor lying on their sides, while much smaller percentages snooze on their stomachs and backs. Why does it matter, aside from the relative health advantages and disadvantages of each position? Well, when it comes to pillows, there's a strong link between how someone sleeps and whether they will find a particular type of pillow comfortable.
In general, side sleepers need firmer, loftier pillows, according to Consumer Reports. Among the best choices are latex pillows like the Simmons Beautyrest Latex Pillow or memory foam pillows like the Classic Brands Conforma. For a more traditional feel, the polyester-fill Wamsutta Extra-Firm Side Sleeper offers a balance of firmness and softness with a 2-inch gusset that keeps users' heads up higher. It worked well for a reviewer who tested several pillows—including many that were much more expensive -- for New York Magazine. He landed on the Wamsutta as a favorite, and praised the pillow's spring, calling it "firm" and "satisfying." Users who posted at Bed Bath & Beyond are similarly pleased.
Back sleepers, on the other hand, need something in the middle -- not too firm, not too soft, not too lofty, and not too flat. Oftentimes, down alternative pillows fit the bill. That would include the Lauren Ralph Lauren Logo Down Alternative Pillow and the Sealy Moisture-Wicking Pillow. The more conforming feel of memory foam that suits back sleepers also comes with a shredded-foam model like the Sleep Whale, in which the filling can be shifted for greater or lesser support in specific areas, unlike solid foam pillows such as the Classic Brands Conforma.
Finally, stomach sleepers are best served by a flatter, thinner pillow that keeps them closer to the mattress. Our choice, the Mainstays Standard Microfiber pillow works well because it's soft and on the flatter side, say reviews on Walmart – not always a good thing, but ideal for stomach sleepers.
The Sweethome's pick for stomach sleepers is the pricier Xtreme Comforts SlimSleeper (starting at $36); testers there like its moldability and comfortable support. And while memory foam pillows generally aren't the best choice for stomach sleepers -- most are too lofty -- happy reviewers who posted on Amazon say that with its shredded memory foam filling and slimmer profile, the Xtreme Comforts pillow is an exception because it's thin enough to keep their necks at a proper angle. For stomach sleepers who are foam devotees and wiling to pay a little more, we'd agree this may be a model worth considering.
One notable pillow that gets decidedly mixed reviews for comfort despite a lot of hype is the MyPillow Classic (starting at $50), a late-night infomercial staple priced above the Cheapism ceiling. Filled with shredded foam, the pillow simply feels too lumpy and unsupportive to a large number of buyers. One reviewer on Amazon says his MyPillow seemed like the kind found in a crummy motel. In other words, if you're going to splurge on a pillow, think twice about this one.
Heat Retention. Some people "sleep hot" and don't want their pillow contributing to a sweaty, sleepless night. Even those who don't tend to overheat at night may want a cooler pillow during warmer months. Experts say memory foam pillows are the most likely to have heat issues. Indeed, we read complaints about the heat-trapping qualities of the memory-foam Classic Brands Conforma but minimal grumbling about heat retention with the shredded memory foam Sleep Whale, likely because air circulates better through shredded foam than solid foam.
Anyone really concerned about heat might find solace in a buckwheat pillow like the Sobakawa. One review on Amazon says the pillow needs just a gentle shake to cool down after using a heating pad on top. Down alternative, feather, and latex pillows are also more likely to stay cool, according to experts. The Sealy Moisture Wicking Pillow is one down alternative we like precisely because reviews posted at Overstock.com confirm that the moisture-wicking cotton cover helps minimize heat buildup and sweat.
Stinky pillows cause a lot of consternation among users, who understandably don't want to breathe in an unpleasant odor all night. The worst offenders are memory foam pillows, which often have a chemical smell that's supposed to fade over time. Unfortunately, that may not always happen, especially for people with a sensitive schnoz. Latex pillows such as the Simmons Beautyrest may also have a slight rubber odor, although some reviewers insist it's potent; one user posting on Amazon says even touching it leaves a strong rubber-gloves smell.
Experts say down alternative and polyester pillows are among the best bets if smells are a big concern. Odor complaints were slim to none among our picks in those categories, including the Lauren Ralph Lauren Logo Down Alternative, Sealy Moisture Wicking, Wamsutta Extra-Firm Side Sleeper, and Mainstays Standard Microfiber pillows.
Nothing is more frustrating than a pillow that develops holes in the seams after a trip through the washer, or one that starts out pleasingly plump only to completely flatten out after a couple of weeks. None of the pillows we researched were immune to such complaints, but they dog certain pillows more than others.
Based on thousands of consumer reviews, Sleep Like the Dead finds that, unsurprisingly, inexpensive polyester pillows are most prone to durability complaints mainly because they flatten out or get lumpy relatively quickly. We read a significant number of protests about these issues for the Mainstays Standard Microfiber pillow, the bare-bones polyester pick on our list. A few posts on Walmart report holes or rips, but loss of loft after a few weeks is the primary complaint.
One pillow that receives lots of positive feedback for long-term durability is the Simmons Beautyrest Latex Pillow. Several reviewers say it lasts for years without getting flat or otherwise breaking down. Latex pillows also garner the best overall reviews for durability at Sleep Like the Dead. For sleepers who prefer a more traditional feel, the site also recommends down or feather pillows for their durability. While most of these, particularly 100 percent down pillows, lie outside the Cheapism price range, one reasonably priced alternative we like is the Downlite Old Fashion Granny (starting at $34), which, with its 10/90 goose down and feather mix, is more scrunchable and moldable than latex.
It's also worth noting that the shredded foam pillows we mention here carry markedly long warranties. Our top pick "bamboo" pillow, the Sleep Whale, offers a lifetime "no questions asked" replacement guarantee; and, according to purchasers on Amazon, the company does honor the policy -- though return shipping charges will have to be paid. While warranties on the Xtreme Comforts SlimSleeper and the MyPillow Classic aren't quite as generous, they offer 6 and 10 years of coverage, respectively.
Our Top Pick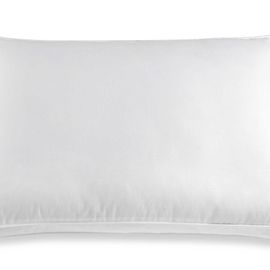 Wamsutta Extra-Firm Side Sleeper Review
Other Products We Reviewed
Mainstays Dream Puff Bed Pillow Review
Memory Foam Contour Pillow Review
Downlite Old Fashion Granny Review
The Downlite Old Fashion Granny is among the most budget-friendly choices for consumers who like the old-fashioned feel of a moldable, well-stuffed feather pillow. It can be tossed in the washer and dryer, and feather pillows are a little more cuddly for those who like to hug their pillows.
Available in five sizes, including a body pillow.

Blend of goose feathers and down provides more classic feel.

Keeps users relatively cool.

Medium firmness stands best chance of satisfying wider variety of sleepers.

Pillow can be machine washed and dried.
Despite double lining, some reviewers say the pillow feels too crunchy because of poking from individual feathers.

Pillow may need to be fluffed often to return to original shape and comfort.
Xtreme Comforts SlimSleeper Review
While memory foam pillows usually are too firm and lofty for stomach sleepers, the thinner Xtreme Comforts Slim may be just the ticket. Owners love the ventilated bamboo cover, and many appreciate how moldable this shredded memory foam pillow is compared with polyester or down alternative.
Available in three sizes.

Thinner profile makes this pillow ideal for stomach sleepers or anyone irritated by loftier pillows.

Bamboo cover is ventilated for increased breathability.

Entire pillow can be machine washed and dried.
Some reviewers say it gets lumpy or develops flat spots over time.

Some stomach sleepers say it's still not flat enough to be comfortable.
Mediflow Original Waterbase Review
Waterbeds may be out, but it's still possible to get a water-filled pillow. The Mediflow is noted especially for pain relief, so reviewers recommend giving it a shot if you wake up every morning with a stiff neck. It's a bit pricey, though, and probably won't work for stomach sleepers. Sometimes special deals can be had by purchasing directly from the manufacturer.
Loft and firmness make it ideal for side and back sleepers.

Water-filled pillow gets above-average reviews for neck-pain relief.

Pillow is leak resistant and resists excessive flattening.

Pillow can be machine-washed and dried.
Finding proper support level may require some trial and error.

Because it's filled with water, it can't be molded to increase support in a certain area.

Too heavy to easily reposition when filled.
Features Comparison
Wamsutta Extra-Firm Side...
Standard/queen: 18x26 in. King: 18x34 in.
Lauren Ralph Lauren Logo...
Standard/queen: 20x28 in. King: 20x36 in.
3 levels: medium, firm, or extra-firm/All types of sleepers
Standard: 18x26 in. Queen: 18x29 in. King: 18x36 in.
Medium-firm/Side & back sleepers
Medium to firm /Back & side sleepers
Medium-soft/Back & stomach sleepers
Standard: 20x26 in. Queen: 20x30 in. King: 20x36 in.
Medium to firm/Back & side sleepers
Queen: 16x27 in. King: 16x33 in.
Medium-firm/Side & back sleepers
Standard: 15x20 in. Jumbo: 20x29 in.
Firm/Back & side sleepers
Standard/queen: 18.5x28 in. King: 18.5x34 in.
2 levels: medium or firm/All types of sleepers
Downlite Old Fashion Granny
Feather (10/90 goose down & feathers)
Standard: 20x26 in. Jumbo: 20x28 in. Queen: 20x30 in. King: 20x36 in....
Medium/All types of sleepers (back & side esp.)
Xtreme Comforts SlimSleeper
Standard: 17x23 in. Queen: 18x26 in. King: 18x33 in.
Medium to firm/Made thinner for stomach sleepers
Mediflow Original Waterbase
Adjustable/ All types of sleepers (back & side esp.)