String trimmers specialize in cutting grass and weeds where a lawn mower won't do. They're perhaps better known as weed eaters, after the company that pioneered the tool in the 1970s and has become as synonymous with its product as Xerox or Kleenex. Cheapism cut through scores of expert and user reviews to identify the best string trimmers for $250 or less. Our top picks include both gas and electric versions (corded and cordless) and come from outdoor power equipment manufacturers known for quality, value, and performance. Although we looked first for the best cheap weed eaters, we've rounded out the list with a few other options, including a heavy-duty gas trimmer for bigger jobs, plus a cheap corded model that doubles as an edger for clean lines along pathways and around planters.
Prices and availability are subject to change.
See full Buying Guide
Pros:
Starts easily and is sturdy, fuel efficient, and user-friendly, reviewers say.
Wide 17-inch cutting swath.
Lightweight for a gas trimmer at 12 pounds.
Dual-line cutter with bump feed uses high-grade, 0.095-inch string trimmer line and is outfitted for quick reloading.
Vibration-reduction technology to reduce discomfort during use and guard against injuries.
5-year warranty for residential use; 2 years for commercial use.
Cons:
Protective plate is a little small, some reviewers say.
Doesn't accept attachments.
Takeaway: The Echo SRM-225 is our choice for best string trimmer under $250. Although it's a bit pricier than other gas-powered weed trimmers, its power and reliability make it a consumer favorite in this price range. Reviewers say it slices through tough weeds with ease and is easy to handle. Some users do note that because this string trimmer is fairly powerful it can be easy to over-trim when edging. Step up to the SRM-225i ($259 from Home Depot) for even easier starting and the option to add tiller and cultivator attachments.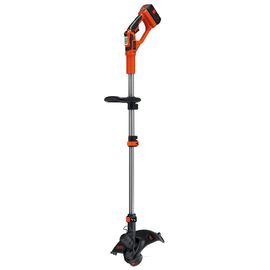 Black & Decker LST136 Review
Pros:
Adjustable power helps conserve the battery.
40-volt lithium ion battery powers through tough, stubborn weeds, reviewers say. It's also compatible with other Black & Decker tools and recharges in two hours or less.
Weighs less than 8 pounds.
Automatic line feed.
13-inch cutting path.
Can be used as an edger.
3-year warranty.
Cons:
Uses only a single 0.065-inch string (many competing models feature two thicker strings).
A few users say the automatic string feed doesn't work especially well.
Takeaway: The Black & Decker LST136W 40v cordless string trimmer is our first choice for electric electric weed eaters trimmers under $250. Although probably not the best match for large yards, it's a powerful string trimmer/edger with good battery life and thousands of positive reviews. Even accounting for the slightly narrow cutting swath and occasional string-feed glitches, this is an excellent cordless trimmer at an attractive price. For even smaller yards, and smaller budgets, the Black & Decker LST300 ($78 from Home Depot) is a 20v Max lithium-ion battery-powered cordless string trimmer that also gets solid feedback. 
Black & Decker GH900 Review
Pros:
6.5-amp motor is relatively powerful for an electric trimmer in this price range.
Doubles as an edger with a guide wheel to make handling the trimmer easier.
Automatic line feeder is smooth and tangle-free, most users say.
Shaft height, handle angle are adjustable.
Easy to handle at just 5.5 pounds.
Cons:
Power cord limits mobility.
Uses line too quickly, some owners complain, and replacement spools are pricey.
Warranty is only for 2 years.
Takeaway: This Black & Decker string trimmer isn't the cheapest corded model you can buy, but for the price it offers a good balance of power (6.5 amps) and cutting path size (14 inches) that other similarly priced weed whackers can't equal. Satisfied owners say this model is best for occasional use on smaller yards — unless you have really long extension cords — and lightweight enough to flip and use as an edger. The guide wheel on the trimmer head makes this task a cinch, users say, although some note that maintaining a perfectly straight line can be a challenge. The most common complaint we found regards the amount of 0.065-inch. trim line the Black & Decker consumes; several owners say they ended up spending as much in replacement line as they did for the trimmer itself. 
Pros:
5-amp motor provides good power and does a solid job cutting through thick grass and weeds, many users say.
Automatic-feed dual-line trimmer.
14-inch cutting path.
Weighs 6.3 pounds.
Adjustable handle; telescoping shaft.
Serves as a trimmer and edger.
Cons:
Struggles with some challenging jobs, according to reviewers.
Some complaints about the automatic string feed and the durability of the thin, 0.065-inch line.
Scattered grousing that the placement of the motor at end of the shaft makes it bottom-heavy and awkward to use.
Short 2-year warranty.
Takeaway: Some users have an affinity for corded string trimmers over the cordless variety, most notably for small yards that need this type of equipment only sporadically. Fans of Toro weed eaters who are looking to tackle less sizeable jobs might find that the Toro 51480A fills the bill. It's affordable, user-friendly, effective at cleaning up grass and weeds, and doubles as an edger. It may balk at overgrown vegetation but has enough power for routine yard tasks.
Pros:
Good power and cuts well, according to reviews.
18-inch cutting swath; thick (0.095-inch) dual line.
Compatible with several attachments, including edger, blower, and tiller.
Adjustable handle for a more comfortable grip.
Easy to set up and use, users say; bump feed head is easy to reload.
Weighs 12 pounds.
3-year warranty.
Cons:
Reviews suggest there is a vibration-reduction feature, but the manufacturer confirms there is none.
Some users report product failures — the head can come off, for example, or the machine doesn't start.
Takeaway: One of the best aspects of many Ryobi products is their flexibility. That's especially true of the RY253SS, which supports more attachments than other budget string trimmers — for example, you can add a hedge trimmer attachment to turn this string trimmer into a gas hedge trimmer. Beyond that, this versatile lawn tool boasts the widest cutting swath of all the cheap weed eaters we researched. Equally important, users like working with it; a majority say it's easy to handle and operate, and starting up its two-cycle engine is a breeze.
Ego Power+ ST1521S Review
Pros:
Variable-speed throttle and 15-inch cutting swath make it easy to cut through thick vines and weeds, according to professional tests.
Bump feed with thick, dual 0.095-inch line that loads at the touch of a button.
Lifetime warranty on carbon-fiber shaft, 5-year warranty on the trimmer, 3 years on the battery pack and charger.
Battery is compatible with other Ego Power+ tools.
Cons:
Powerload string-feed mechanism can be frustrating to operate, according to reviews.
A handful of owners complain that battery life could be better.
Additional rechargeable batteries are expensive.
Takeaway: Reviewers say this cordless Ego Power+ string trimmer has the power to cut through tough grass, weeds, and light brush nearly as well as gas-powered modes. Wirecutter described its performance as "on another level," while Popular Mechanics says it has "more than enough for residential purposes." With the 2.5 Ah battery attached (the smallest one available), the weed whacker weighs about 11 pounds. It feels balanced and is comfortable to use with the adjustable, padded front handle, users say, although a handful of owners suggest buying a shoulder strap. As some reviewers note, a new battery will cost $150 or more, depending on the model you buy, which is pricey.