Many consumers swear by fitness trackers for motivation to work out, as well as accurate and easily accessible overviews of their exercise habits and overall health. Recent years have seen a flood of these dedicated activity tracking devices, and some notable shakeups in market leaders as multi-use smartwatch sales have gone up and Apple has risen in prominence in the wearables segment. With so many options for shoppers to choose among -- some with price tags well over $300 -- we've saved some of the legwork for value-conscious consumers and scoured expert reviews, user feedback, and product specifications to find the best fitness trackers under $60.
See full Buying Guide
Our Top Pick
Our Picks
Pros:
Slim, lightweight, attractive design that can be used in a wristband, clips, bangles, or pendants.
In addition to steps, distance, and calories, it tracks active minutes, sleep, and idleness; automatically adjusts to track specific workouts.
Most users say the counts and sleep tracking are very accurate.
LED lights and vibrations indicate progress toward goals, remind users to move, and provide text and call notifications.
Fitbit's app and ecosystem are among the most robust and user-friendly.
Very easy to sync; pairs wirelessly with a smartphone and with a computer via USB dongle.
One of the least expensive trackers from a top brand.
Swim-proof.
Cons:
No display.
Some reviewers grumble that the life of rechargeable battery could be better.
Takeaway: Experts and consumers alike admire the Fitbit Flex 2 for its simplicity and excellent features. It's the best budget fitness tracker in the field (and a superior alternative to the Fitbit Zip, a popular clip-on tracker that seems to be on its way out -- perhaps because many found the pop-out device too easy to lose). While the lack of display on the Flex 2 may be a drawback for some, detailed readings that are easy to access via app or computer are enough to satisfy most buyers.
Pros:
Watch battery doesn't need recharging and lasts up to 1 year.
Tracks popular stats such as steps, calories, distance, and sleep; designed to automatically detect activities such as jogging or using an elliptical.
Provides move alerts after an hour of inactivity.
Backlit display provides immediate fitness stats; users can choose between five screen layouts.
App provides wealth of charts, graphs, and customizable information and goal-setting.
Swim-proof band is said to be secure, durable, and comfortable.
Cons:
Chunky compared with other trackers in this price range.
Accuracy can be a little off; many reviewers say it doesn't always recognize or adequately give credit for certain activities.
Competitor apps are easier to use and less cluttered.
More limited user community than Fitbit, with fewer opportunities to connect with friends for support.
Syncing must be done manually, and some users say the device doesn't pair well with their phones.
Takeaway: Not everyone loves the bulkier design of the Garmin Vivofit 3, but it has an attractive backlit display -- difficult to find on a fitness tracker in this price range. It also has more features and customization options than most of the competition. This band's biggest boon, however, might be the full year of battery life, which means that serious fitness buffs don't have to worry about losing precious stats while charging.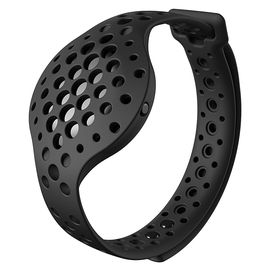 Pros:
Innovative, award-winning design and features.
So lightweight and comfortable that many users say they forget they have the band on; also comes with ankle band.
Exceptionally accurate tracking can provide stats on specific activities from running to cycling to boxing and more; swim tracking includes laps, distance, pace, and strokes.
App provides live coaching to motivate and improve form.
Runs on a watch battery that can last up to 6 months.
Cons:
Tracks active minutes, not steps, throughout the day; steps are represented only as part of workouts.
No heart-rate monitor (upgrade to the Moov HR Burn strap or Moov HR Sweat headband for zone-based training).
GPS and coaching require a phone, and some complain that the robotic text-to-speech coaching voice is annoying.
Many reviewers say the bands come undone too easily, and they've lost snap connector or tracker.
Takeaway: The design of the Moov Now is so simple that it has no display at all. But with a swim-proof casing, personalized coaching tailored to a variety of activities, and real-time feedback on performance, it goes beyond the basics at a price that's well below the competition. Some may wish the Moov Now were a bit more elementary, however: This band doesn't function as a basic pedometer, which limits the appeal for less active users who are simply looking to increase daily movement.
Pros:
Tested by sites such as TechRadar and TrustedReviews, this band is considered an excellent value by a majority of experts and users.
In addition to tracking steps, distance, calories, and sleep, it includes a heart-rate monitor -- very uncommon in a fitness tracker this cheap.
OLED screen displays phone, text, and app alerts; band vibrates for notifications and idleness.
Rechargeable battery with extended life; many owners say their batteries have lasted more than 20 days.
Lightweight and comfortable.
Cons:
Step counts tend to be a little off, according to user reviews.
Some complain that the band must be positioned just so on the wrist for heart-rate readings.
Setup may not seem intuitive; instructions are limited.
Mi Fit app is pretty basic and not totally bug-free, but Xiaomi continues to improve it.
Takeaway: The Xiaomi Mi Band 2 is a good, cheap fitness tracker that covers the basics and a bit extra. For the price, its full-display screen and built-in heart-rate monitor represent a real value. Many reviewers say this Chinese-made band more than stands up against pricier competition -- there's a reason Xiaomi has unseated Fitbit in global sales. While counts may be a tad off, improvements made to the Mi Band 2 have boosted its precision over the previous model.
Pros:
More subdued, "expensive" look and feel.
Tracks sleep in addition to steps, calories, and distance.
LED light flashes to indicate how close the wearer is to a goal.
Users who've stepped up from the popular Misfit Flash generally say the Flare is more accurate than its predecessor.
Can function as a remote control for a phone camera and music.
Powered by a watch battery, so it doesn't need charging.
Waterproof.
Cons:
Swim-tracking feature costs an extra $9.99.
Fewer base features than other models in this price range.
Takeaway: Marketed more toward style buffs than fitness buffs, the Misfit Flare has a distinctive minimalist design that features a single LED on a disk that does double duty as a smart button. It's a simple but effective activity tracker that monitors movements throughout the day and night with a good degree of accuracy. Its design and features probably won't appeal to everyone, but those who are willing to max out a $60 budget for a basic fitness tracker with a bit of modern flair will appreciate this model from Misfit.
Pros:
Simple and easy to use.
Tracks sleep in addition to steps, distance, and calories burned.
LED display shows the date and time and provides immediate access to fitness stats.
Comes with two bands (black and blue or black and purple) that users say are comfortable to wear.
Easy to set up with Wesoo's VeryFitPro app and compatible with a variety of other apps; can also receive phone alerts.
Many reviewers consider it a good entry-level option for kids.
Charges via USB; no additional cord required.
4.2 stars from nearly 1,500 reviewers on Amazon.
Cons:
Some users report trouble syncing the tracker with their smartphones.
Several users accuse the K1 of inaccurately tracking steps and being overly sensitive to arm movements.
A few buyers complain that the screen is too dim or the watch band can break relatively easily.
Takeaway: You probably haven't heard of Wesoo or its K1 band, but this Amazon favorite has drawn quite a few positive reviews. Like some of the better quality trackers that have emerged from Chinese manufacturers in recent years, it's big on value, offering a lot of features at an incredibly low price. Although it seems to have a few issues with accuracy and durability, it makes a good first fitness tracker for casual users or kids.
Pros:
Simple design, light weight (just .32 ounces), and comparatively low price.
Battery life is outstanding -- up to 8 months.
Automatically adjusts to track different activities, including running and swimming, in addition to the basics, like sleep.
E Ink display, which tracks progress toward goals, is bright, easy to read, and always on -- without draining the battery.
Straightforward and easy-to-use app provides badges and theme-based facts as goals are achieved.
5 color options; comes with a wristband and clip.
Cons:
Setting up the app is tricky, and syncing can be difficult.
Many users say it doesn't track steps or sleep accurately.
Display shows only limited information and has no backlight for use at night.
No way to display the time by default, so it doesn't double as a watch.
Some reports of displays that have died.
Takeaway: The Nokia Go, originally designed by French company Withings, looks good on paper and has an amazing battery life, but its functionality and durability doesn't impress experts or consumers. Many find the information it provides pretty basic, and its innovative E Ink screen seems wasted on the very minimal feedback it displays. There are other bare-bones trackers that look sleeker and manage to do more.