It's a hassle to get out a large upright vacuum to clean up a small mess. This is where a cheap handheld vacuum comes in, er, handy. If something spills or breaks, you can pull out a handheld vacuum and leave the upright in the closet until the whole house is due for a cleaning.
See full Buying Guide
Our Top Pick
Black & Decker CHV1410L Review
Black & Decker CHV1410L Review
Best Cordless Handheld Vacuum Under $60
Pros:
Wirecutter's budget pick for quick cleanups.
Excellent performance on bare floors in testing, and okay on other surfaces.
Users enthuse about the vacuum's overall performance in thousands of 4- and 5-star reviews on Amazon.
Built-in flip-up brush and pull-out crevice tool; rotating nozzle.
Washable, translucent, 20.6-ounce dust cup.
Rinsable filter.
Lightweight, at 2.6 pounds.
16-volt lithium-ion battery; quick 4-hour charge time; indicator light.
2-year warranty.
Cons:
Expert testers found the suction insufficient for debris stuck on fabric and carpet.
Some gripes about short run time.
No wall mount.
Takeaway: A consumer favorite, this Black & Decker handheld vacuum scores for ease of use and effectiveness on small jobs. Users appreciate the weight, integrated tools, power, and quick recharging. They say emptying and cleaning the dust bowl is a snap, and the price-to-quality ratio is high. The run time is long enough for some but frustratingly short for others (the manufacturer doesn't specify). The unit holds a charge for quite a while when off the base.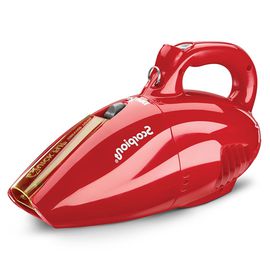 Dirt Devil Scorpion Quick Flip SD20005RED Review
Best Corded Handheld Vacuum Under $50
Pros:
Powerful 7-amp motor provides enough suction to rival full-size vacuums, according to users.
Integrated flip-out crevice tool.
2.5-foot hose; dusting brush; shoulder strap.
3-year warranty.
Cons:
Narrow 1.5-inch cleaning path.
Filter is not washable.
Takeaway: One sweep is all it takes to pick up debris and pet hair with the Dirt Devil Scorpion Quick Flip SD20005RED, reviewers say. Users happily trade the restriction of the 16-foot cord for the durability and reliability of power that's ever-present and never flags, unlike with cordless models. This is one of the strongest handheld vacs with a budget price tag, although it's not perfect. Some reviewers harrumph about one thing or another (e.g., the filter clogs, air blows out the back, the crevice tool seems loose). Still, most users report that this little Dirt Devil defeats every challenge thrown its way.
Bissell Pet Hair Eraser 33A1B Review
Best Handheld Vacuum for Pet Hair Under $50
Pros:
Neatly accomplishes its mission of cleaning up after pets, users report.
Comes with 2 nozzles: a flexible and contoured nozzle for pet hair on stairs and upholstery and a hard nozzle for debris.
Multi-level filtration.
Large, washable 26.4-ounce dirt cup.
Cons:
Dry messes may be scattered by exhaust, experts warn, and pet hair on medium-pile carpet proved a challenge in testing.
Relatively heavy, at 5 pounds.
Filter assembly is not washable.
Comparatively short 1-year warranty.
Takeaway: Many users are satisfied with this Bissell Pet Hair Eraser handheld vacuum, citing its ability to denude rugs and even microfiber couches of pet hair. Consumer product experts laud its performance on bare floors and edges. Reviewers say the suction on this little 4-amp corded vacuum is plenty powerful and note how well the rubber nozzle loosens pet hair so the vacuum can suck it up.
Eureka Easy Clean 71B Review
Best Handheld Vacuum for Stairs Under $50
Pros:
Forcefully pulls debris (including pet hair) from carpets, smooth surfaces, and car interiors, according to experts and consumers.
Visor over the nozzle flips up for vertical vacuuming.
Integrated hose and crevice tool; motorized brush roll.
Wide 6-inch cleaning path.
20-foot cord with cord wrap.
Translucent dust cup.
Washable filter.
Cons:
Short hose is limiting, some reviewers say, and weakens suction.
Some users complain that the filter is hard to clean, especially if covered with pet hair.
Scattered reports about overheating and a short lifespan.
Comparatively short 1-year warranty.
Takeaway: The Eureka Easy Clean 71B hits the mark with consumer product experts for value and effectiveness, and users heap praise on its muscle when tackling stairs and spot cleanups. The long cord ensures easy maneuverability and 5.5 amps of power on demand. Many reviewers say they switched to this corded hand vac after frustrating experiences with cordless models that quickly poop out. Some find the 4-pound weight a bit on the heavy side and the handle a bit awkward, but a vast majority are thrilled with this powerful and budget-friendly Eureka handheld vacuum.
Dirt Devil Quick Flip Plus BD30025B Review
Good Cordless Handheld Vacuum
Pros:
Effective for small jobs in the home, including pet hair and carpeted stairs, reviewers say.
Built-in Quick Flip crevice tool for hard-to-reach spaces.
16-volt lithium ion battery; quick 4-hour charge time; status indicator light.
Very light, at 2.2 pounds.
Comparatively quiet, according to reviews.
Rinseable filter designed to last 6 months before replacement.
Powered tool for stairs and upholstery.
2-year warranty.
Cons:
Scattered grousing in reviews about insufficient power and limited durability (failure to recharge or hold a charge after a while).
Relatively short 13-minute run time.
Charging may take longer than the 4 hours promised in the specs, reviews suggest.
No charging base.
Relatively small 0.5-liter (16.9-ounce) dirt cup.
Takeaway: The cordless Dirt Devil Quick Flip Plus BD30025B stands out for its compact size and light weight, as well as the integrated crevice tool that flips open to reach tight spaces (no worries about the tool getting lost, several users note). Many reviewers say the 16 volts of power produce enough suction to clean little messes, area rugs, carpeted stairs, and upholstery, although some say it's less effective than expected.
Bissell CleanView Deluxe 47R51 Review
Good Corded Handheld Vacuum
Pros:
Reliable and effective, reviewers say, especially on upholstery, corners, and stairs.
Large 26.4-ounce, translucent dust cup.
2-foot hose and adapter nozzle; crevice tool; wide-mouth tool.
18-foot power cord.
Multi-level filtration.
Cons:
Relatively heavy, at 5 pounds.
Filter assembly is not washable.
Comparatively short 1-year warranty.
Takeaway: The compact Bissell CleanView Deluxe 47R51 meets most users' expectations for small vacuuming tasks. The 18-foot cord makes for easy maneuverability and continuously supplies 4 amps of power. Some users with pets say the flexible, contoured rubber nozzle does a fine job sucking up pet hair from the furniture, but a few caution that the filter clogs quickly. The included attachments are a welcome bonus.
Dirt Devil Ultra M08230RED Review
Good Handheld Vacuum With Bag
Pros:
Easy to handle on stairs, upholstery, and floorboards, according to users.
Built-in, 2-foot stretch hose and crevice tool.
On-board storage for the 16-foot cord.
Wide 6-inch cleaning path.
Dust bag with proprietary filtration for trapping allergens.
3-year warranty.
Cons:
Weak suction, some users say.
Relatively heavy, at 4.45 pounds.
Takeaway: The Dirt Devil Ultra M08230RED claims some diehard fans, many of whom would rather use paper bags to contain debris than empty a dust cup (although others say the dust bag is a hassle to change). This Dirt Devil handheld vacuum earns its share of plaudits for cleaning up after pets and small areas inaccessible to full-size vacuum cleaners. Others, however, consider the hose too short and the 4-amp suction inadequate for even minor jobs, let alone pet hair.
Dirt Devil Express V6 Wet/Dry BD10205 Review
Pros:
Designed to clean up wet spills as well as dry messes.
Okay for very small jobs, reviewers say.
Wide 5.5-inch nozzle.
Very light, at 1.7 pounds.
Flip-out crevice tool.
Cons:
6-volt battery delivers inadequate power, according to reviews. Our top picks start at 16 volts.
Old-school NiCd battery runs out of juice quickly and requires 24 hours to charge.
Center section of the nozzle intended for solid messes is too narrow, users say.
Misses the mark on wet spills, according to reviews.
Intake clogs easily.
Comparatively short 1-year warranty.
Takeaway: The Dirt Devil V6 Express BD10205 stands out from the pack with its wet/dry design and featherweight poundage. But most users are unimpressed. They bemoan the weak suction, unusual nozzle design, and, most especially, the battery. They write that it loses its charge very quickly -- it can't even handle a small dorm room, says one -- and requires a very lengthy recharge time. The NiCd battery technology also suffers from what's known as "memory effect," meaning it must be completely discharged before it can be fully charged and hit optimal run time. Given the performance failings, this model isn't much of a bargain.