Best Cheap Exercise Bikes for Home Use
Get spinning for less with Cheapism's picks for the best cheap exercise bikes. We've reviewed the best exercise bikes under $400, from recumbent bikes to upright bikes and spin bikes. Bonus picks include an air bike, an elliptical exercise bike, and an exercise bike for under desk use.
What We Considered
Fitness and consumer product review sites such as Top Fitness Mag, Consumer Reports, TopTenReviews, BestReviews, and Reviews.com regularly test and review the top exercise bikes, but the most extensive feedback comes from consumers who buy and use the exercise equipment at home. Most exercise bike reviews and recommendations from consumers appear on the websites of large retailers such as Amazon and Walmart. Reviews most frequently address assembly, as well as ease of use and comfort. Most indicate that riders are satisfied with our top picks despite occasional operational and mechanical flaws.
A comfortable and satisfying fit is paramount; without that, you're unlikely to be consistent with your workout. To ensure a good fit and allow for peak performance, a good cheap stationary bike should be height-adjustable. That is, you should be able to raise and lower the seat in order to pedal smoothly and comfortably. A seat that's too high will force you to overextend your knees and ankles; with a seat that's too low, your knees will hit the handlebars -- particularly if the seat cannot be adjusted horizontally. Ideally, the handlebars should be adjustable as well; vertical adjustment is common, but some handlebars can be adjusted in four directions, which is important for those with shorter arms.
Recumbent and upright bikes offer different benefits that consumers may want to keep in mind too. For instance, the back support on a recumbent bike reduces pressure on the hands and wrists. A low center of gravity allows these bikes to pick up speed more easily. Consumers who choose recumbents often do so because of common problems including pain or numbness in the rear end or crotch when riding upright bikes; wrist and hand problems such as pain, nerve trauma, or carpal tunnel syndrome; and neck, shoulder, and back pain. For some men, issues of impotence and/or prostate enlargement may be a consideration.
An upright bike provides a workout more consistent with outdoor riding, as it positions the rider similarly and targets more muscle groups. Recumbent bikes work primarily glutes, quads, hamstrings, and calf muscles. Spin bikes may prove the most uncomfortable for some users, due to the more hunched position. Spin workouts are probably not the best for those suffering from knee problems, due to the higher speed of repetitions and because they entail lots of pedaling while standing.
From beginners to experienced pros, most riders appreciate an LCD screen that tracks fitness stats. Some bikes also come with preset exercise programs that help orient workouts around specific fitness goals, such as fat-burning, cardio, or interval training. The best bikes can also pair (preferably wirelessly) with popular fitness apps, such as MyFitnessPal, GoogleFit, Apple Health, and MapMyRun/Ride for added workout options and advanced tracking capabilities. Some even provide users the option to bike through virtual landscapes and share rides with friends in real time.
Even on a cheap exercise bike with a bare-bones console, being able to visually monitor speed, time, distance, and calories burned provides incentive to keep moving. A heart rate monitor in the hand grips, or the ability to pair the bike with a telemetry strap, is a must-have feature for some workout buffs, and a few affordable exercise bikes fill the bill. Just don't believe all the stats that are displayed. We read more than a few reports from slightly irritated users who insist that the readouts, especially for metrics like calories burned, pulse rate, and heart rate, aren't particularly accurate. Moreover, like any electronic component, the console is susceptible to malfunctions -- and repairs can be pricey. If an impressive screen with readouts that truly reflect your progress is important to you, be prepared to pay up for a higher-end model.
The more compact a bike is, the easier it is to store. Upright bikes are smaller and lighter than recumbents and take up less floor space. A foldable model may be an ideal option for apartment dwellers or users with small homes, although the inconvenience of setting it up and taking it down may deter some people from sticking with their exercise routine. Most of the bikes we researched also include wheels to make them more portable, whether for better positioning in front of a TV or getting the bike out of the room or into a corner when not in use. Just keep in mind that transport may not be as easy in practice as in theory: The longer lines of recumbent bikes can make them more difficult to move around corners and through doorways, and you'll certainly be toting more than 50 pounds. Although spin bikes have a smaller footprint, they tend to be on the heavier side due to their weighted flywheels and additional stability requirements; one of the models we chose weighs a hefty 115 pounds. Mini cycles, prized for their portability, typically weigh about 20 pounds, or even less, and can be stored under a desk or tucked away in a closet.
A well-designed cheap stationary bike -- particularly one with a belt drive and magnetic resistance -- provides quiet, smooth operation at all intensity levels and speeds. The noise from pedaling and spinning is somewhat subjective, but a good test is whether you can easily listen to music, carry on a conversation, or watch TV while riding. A majority of stationary bike reviews say this piece of home exercise equipment is fairly quiet. One notable exception: Air bikes are notoriously loud, with their cranking fans and the resulting wind (but you'll probably be working too hard to be watching a show at the same time anyway!).
Our Top Pick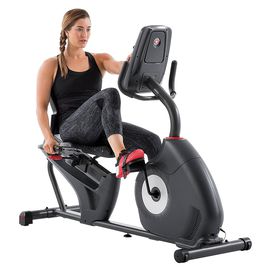 Schwinn 230 (MY16) Review
Other Products We Reviewed
Features Comparison
Magnetic, 20 levels, electronic adjustment
10 years frame, 2 years mechanical, 1 year electrical, 90 days labor
Magnetic, 25 levels, electronic adjustment
10 years frame, 2 years mechanical, 1 year electrical, 90 days labor
Sunny Health & Fitness...
1 year frame, 90 days components (free 5-year extension)
Bladez Fitness Echelon GS
Lifetime frame, 1 year parts and computer
Magnetic, 16 levels, electronic adjustment
5 years frame, 90 days parts and labor
Sunny Health & Fitness...